5 Tips for Getting your Space Ready for Spring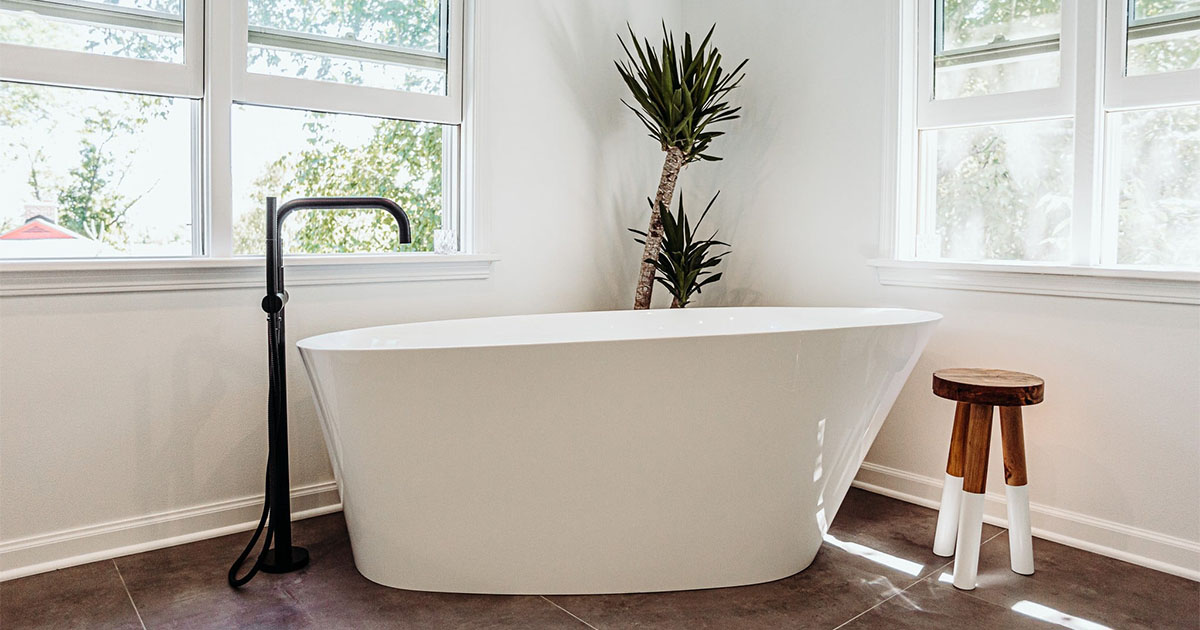 The Start of Spring is officially Here! (even though we're still wearing our winter coats)
I am more than ready to start bringing in the light airy pieces that help transition our homes from the long, yet cozy winter. So until the day we can open up all our windows and enjoy a cold beverage on our patios, let's start packing up our fur pillows and old holiday décor and get organized and ready for Summer.
5 Tips for Getting Ready for Spring Décor
#1- Acrylic Accents
I have always been a fan of how modern an acrylic piece can be. But over the years I have learned that it can be a great accent piece to any style. Over the winter our spaces get cozy with extra blankets, pillows and holiday décor. Adding clear barstools, accent pieces or tables to any space is not only a great way to lighten things up for spring, but also an excellent way to make your space feel larger.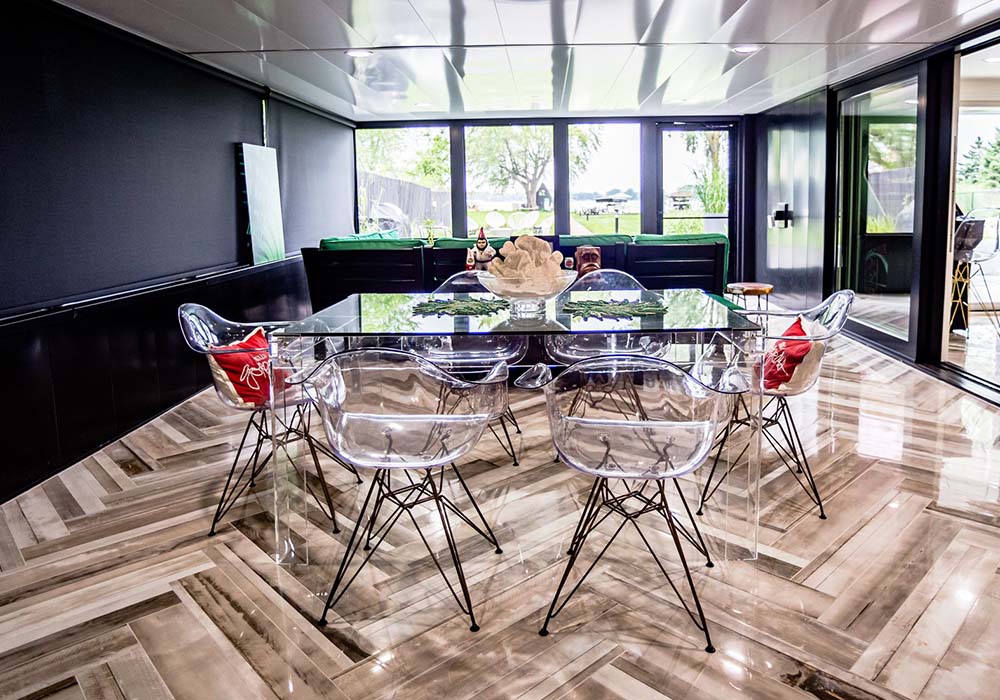 Glass and acrylic dining table-Wisteria
Acrylic Dining chairs-All Modern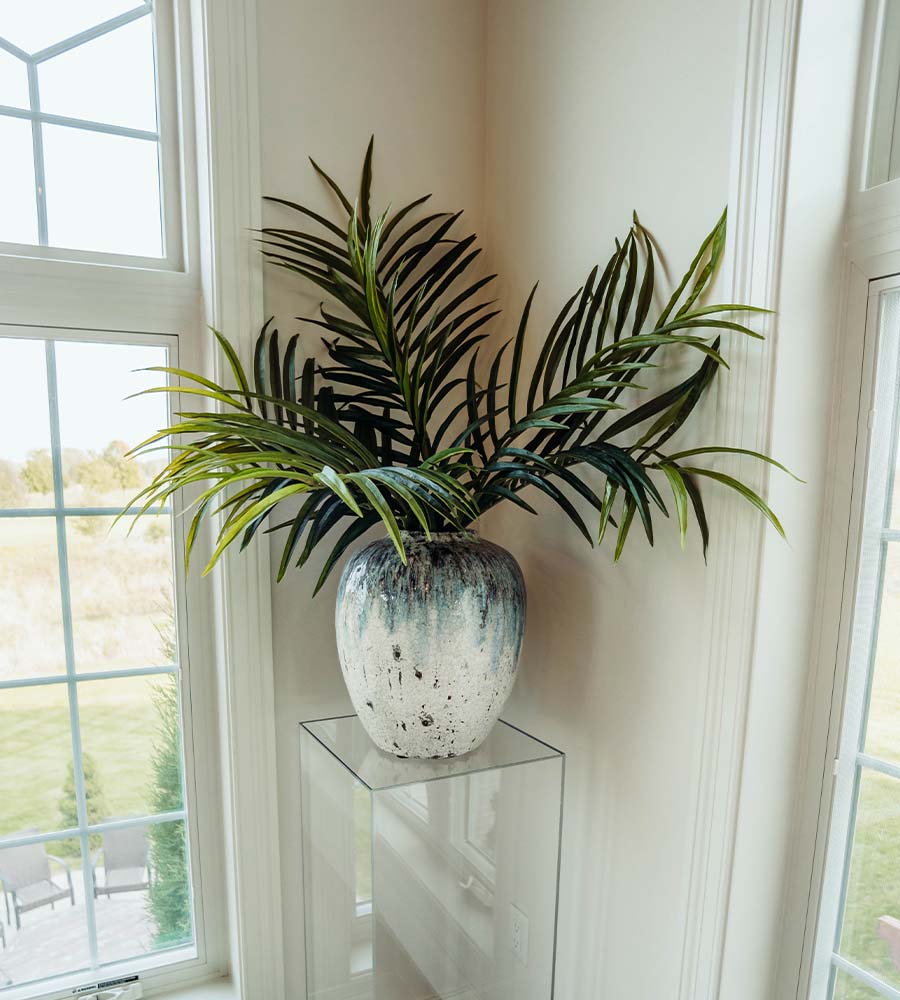 Acrylic stand-Wisteria
#2- Natural Accents & Florals
Natural accents such as fresh flowers (just remember to water!), driftwood, moss, succulents and flowers are one sure way to brighten up any room. Don't have the time or the $$ for fresh flowers, candles are an easy way inspiring scents.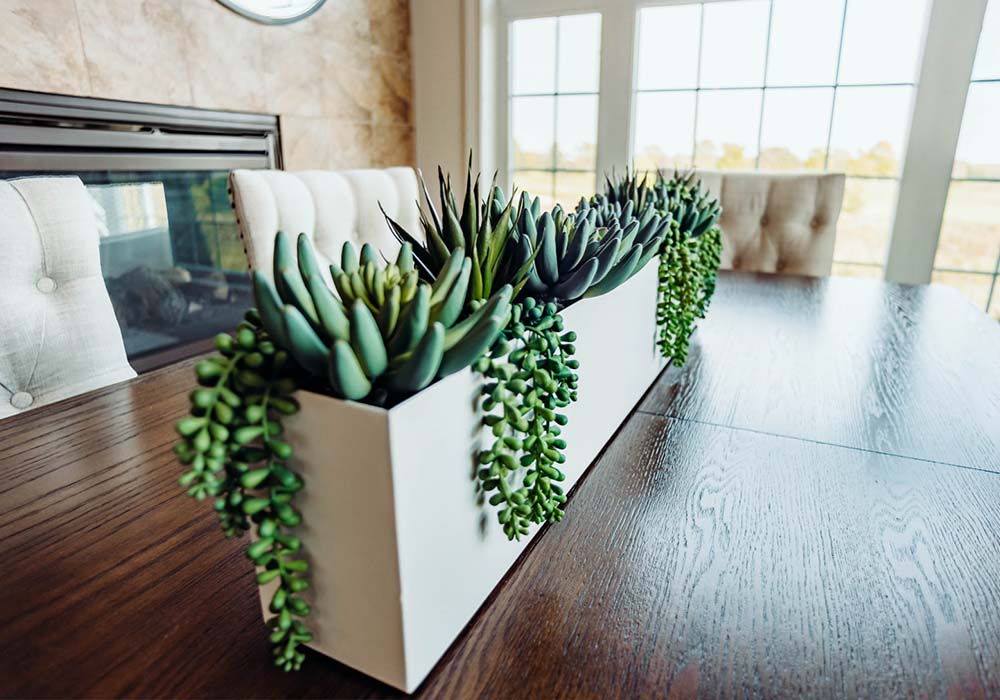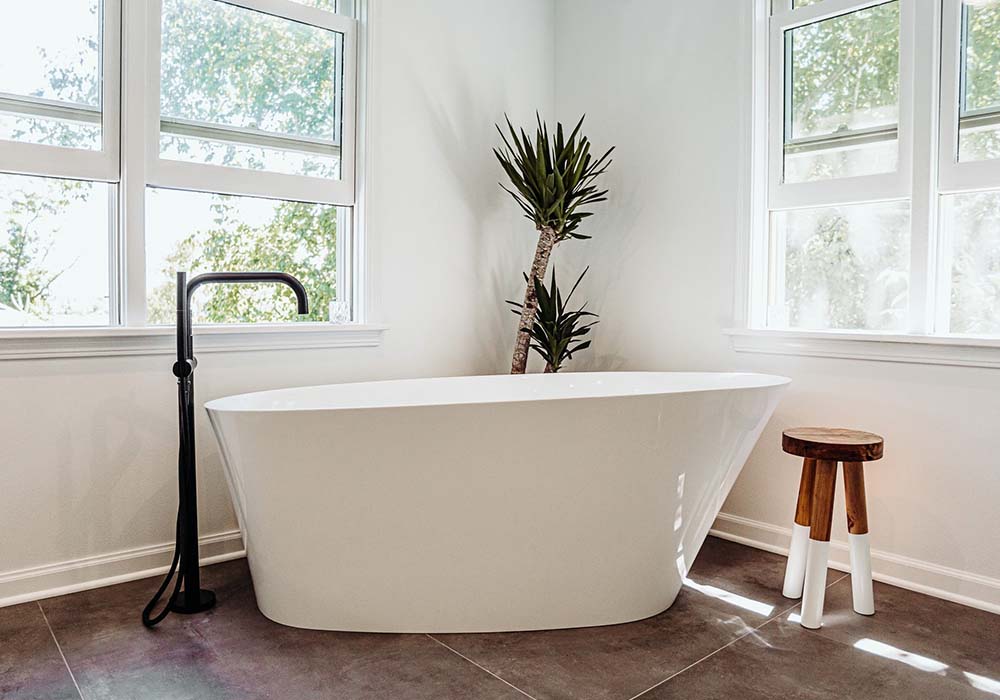 Making succulent arrangements is easy and fun. I used these succulents from Hobby Lobby to make this dining centerpiece. This tropical plant is the perfect touch to enhance the spa feeling in this master bath. Kohler tub and faucet. Also note the wood accent for added warmth.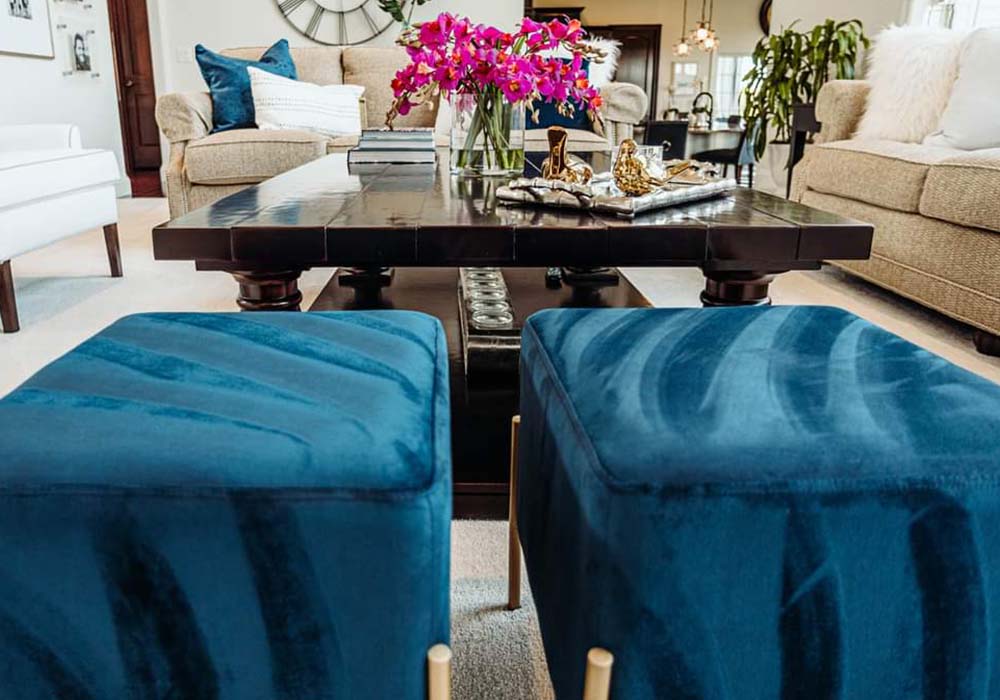 These faux Dendrobium flowers (Pottery Barn) in fuchsia are the perfect accessory in a white room, can't forget to mention the bold pops of teal blue. An entry table is a great way to update the seasons. Out with the holidays and in with a handsome vintage rice wine urn from RH filled with sprays of green!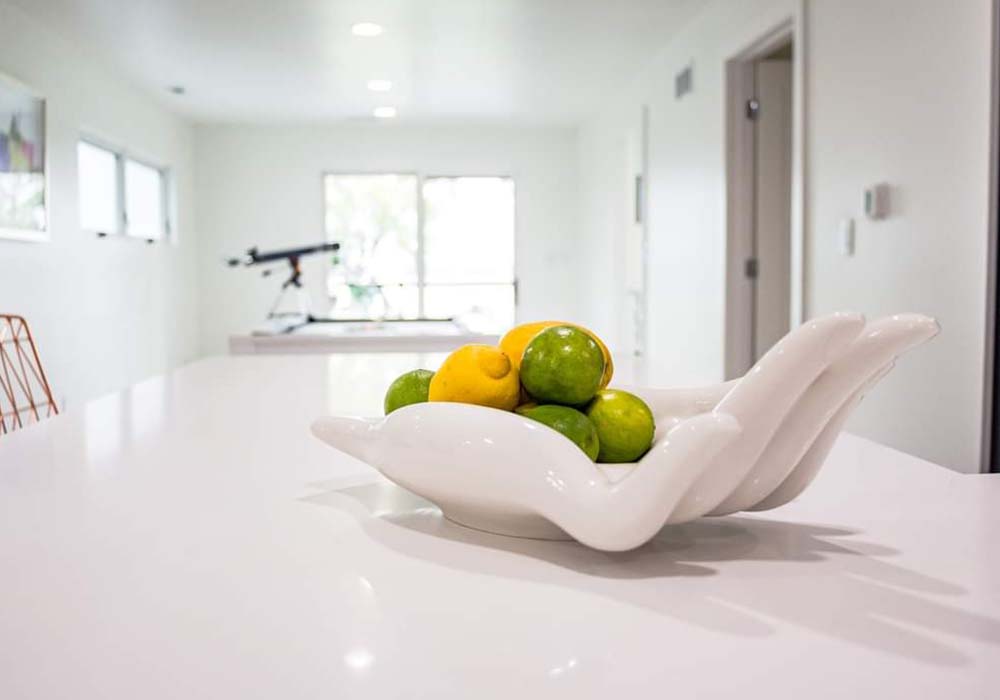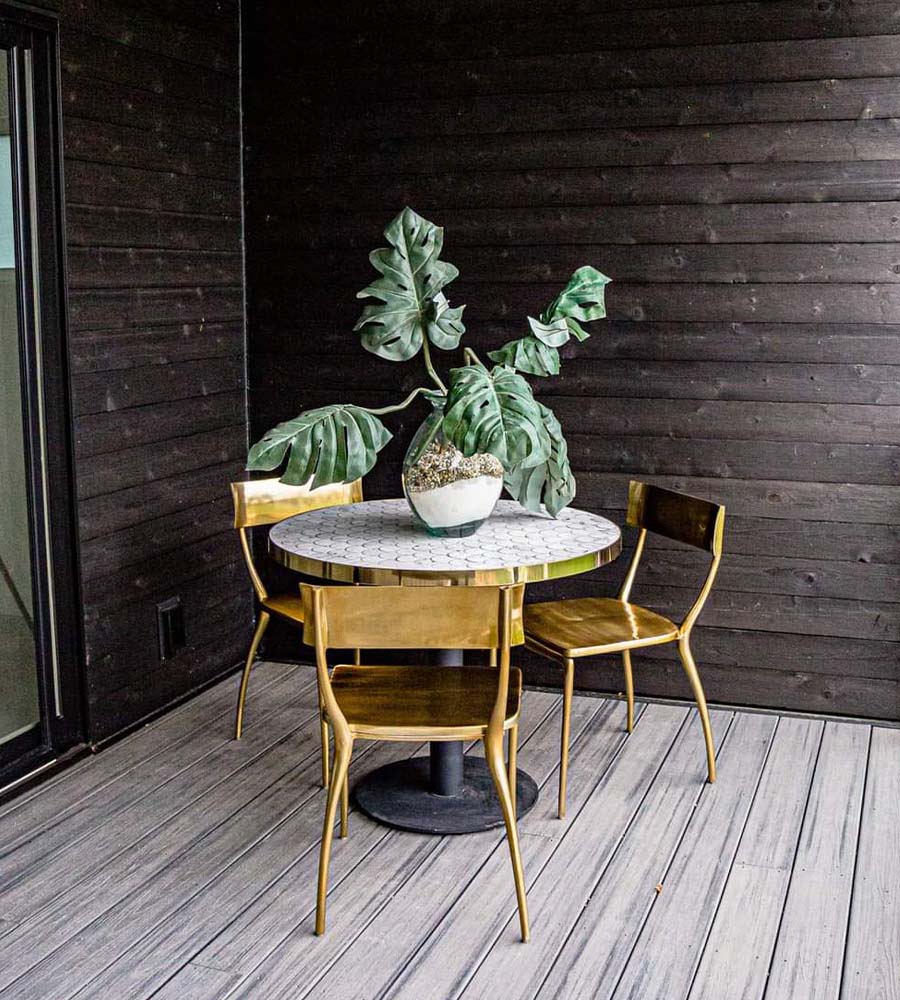 Kitchen island? I chose this Jonathan Adler Eve hand bowl as a fun backdrop for a simple add of color with lemons and limes. I think its Margarita time! Don't forget about your extended living space either, a simple clear vase from Pottery Barn filled with palm leaves is the perfect pairing with this gold and marble patio set from CB2.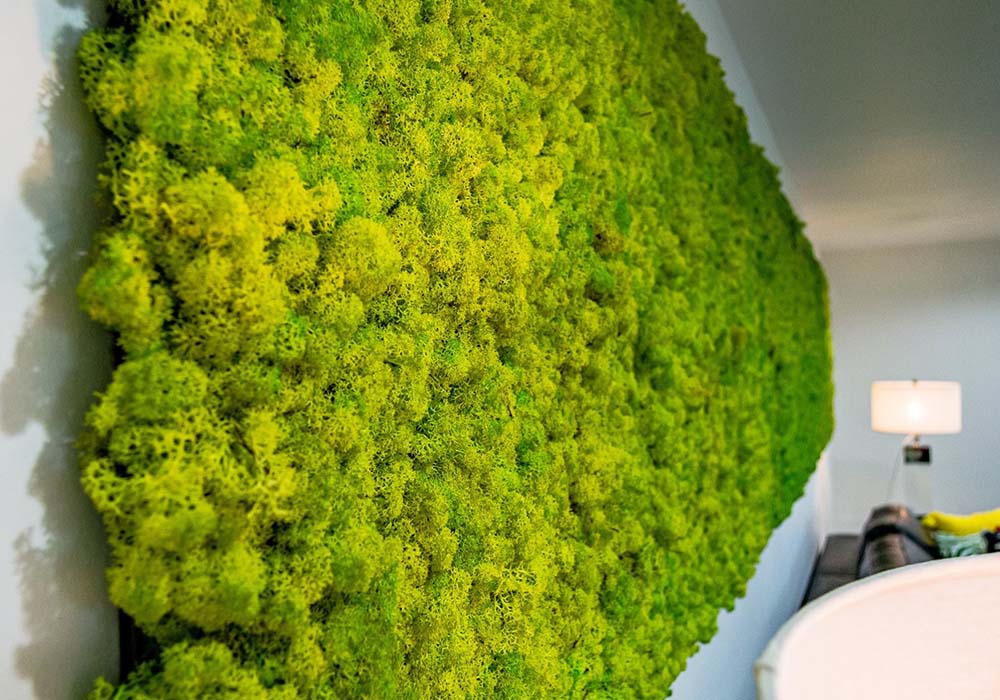 A personal favorite, and my specialty are these maintenance free LIVE MOSS wall panels by Hydra. Residential and Commercial applications. WOW! Just remember, Hands Off and No Water!
#3- Botanical Wallpaper
I have been obsessed with wallpaper for as long as I can remember. Botanical wallpaper can definitely give you a bright WOW FACTOR! Worried about removal if its a bold, trendy pattern? Try Walls Need Love's removable wallpaper.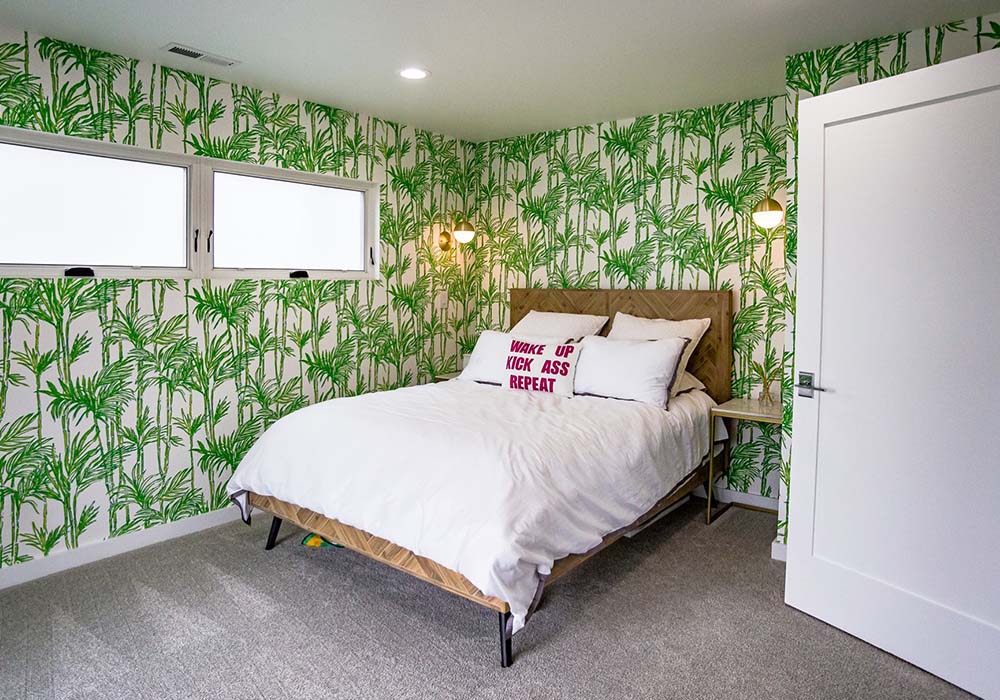 Tropical bedroom wallpaper by Lily Pulitzer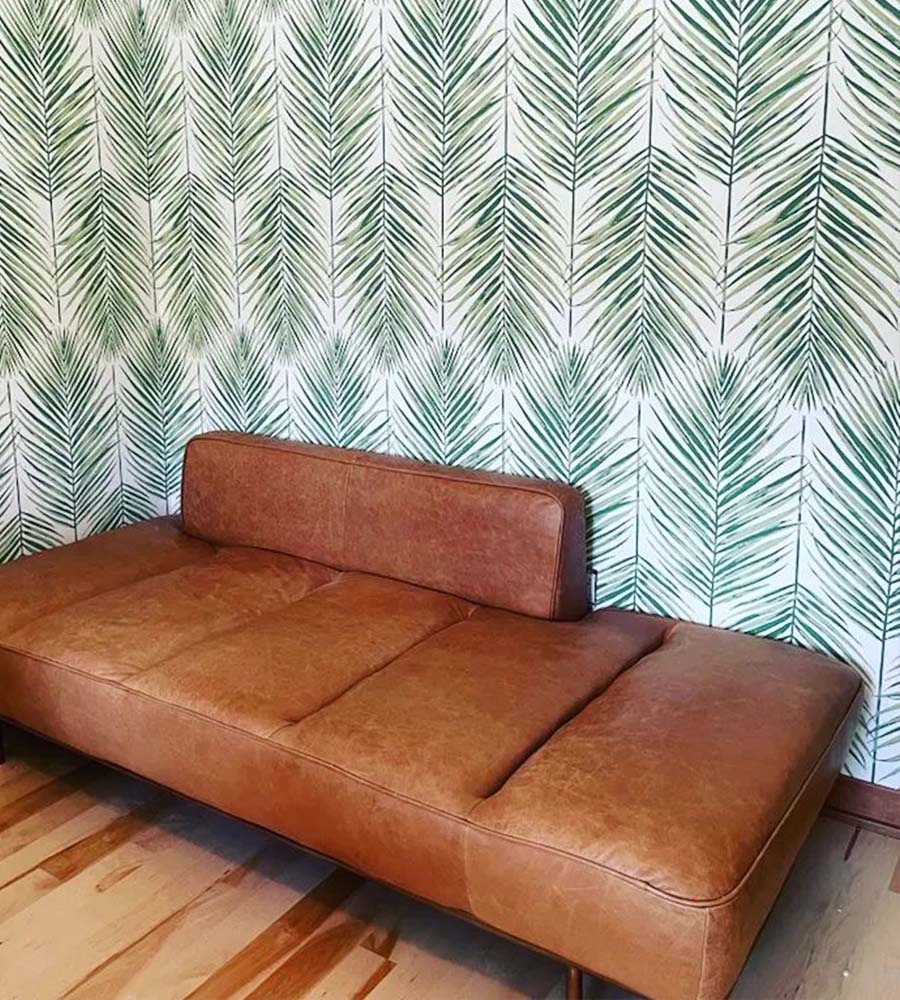 Deco Palm home office paper by Ballard Designs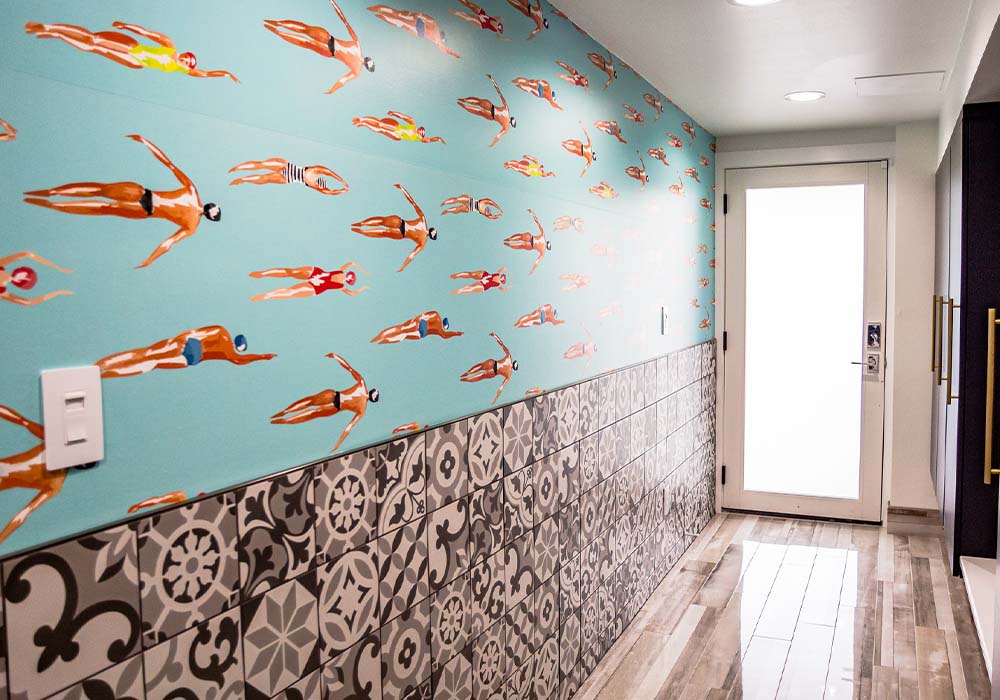 Now I know this isn't botanical, but these swimmers by Walls Need Love SCREAM SUMMER!
#4- Pops of Colors, Bright & Pastel
The shades of 2022 are here!
Greens, Muted Grays, White, Pastels, Reimagined Blues, Dark Earth Tones, Modern Primary Colors-Especially bright yellow.
Rugs, throws, pillows accents…Let's add CONTRAST! Time to swap out the heavy textures.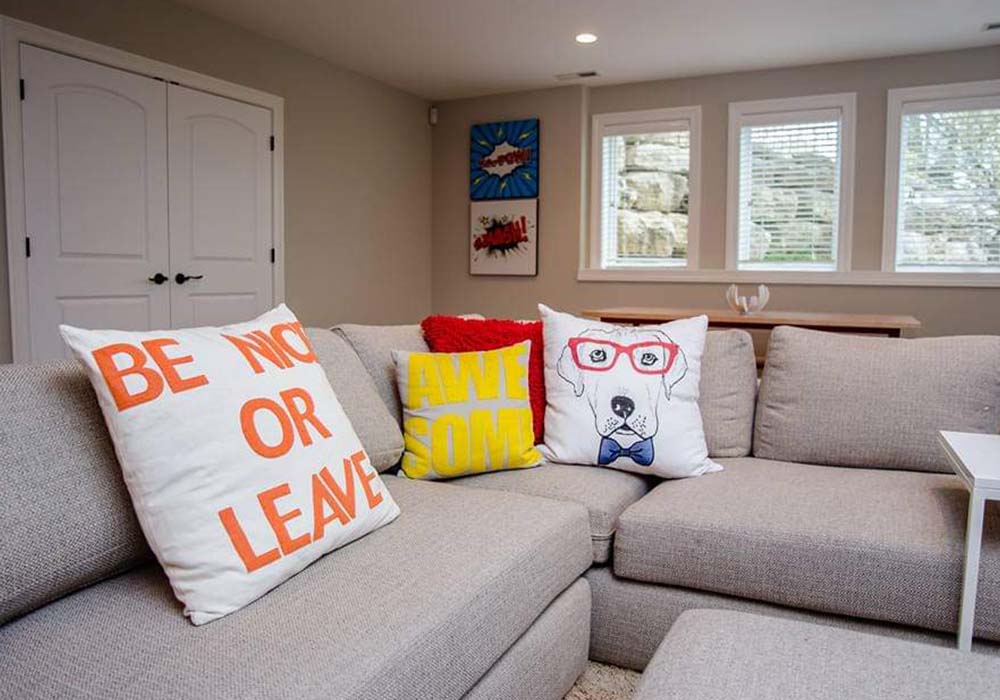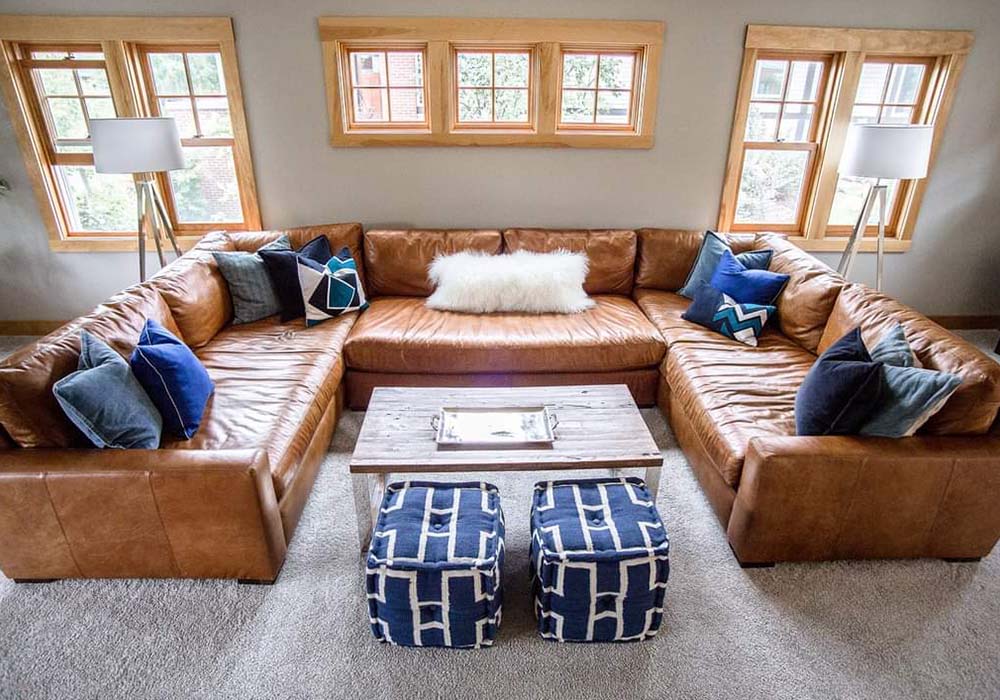 Added FUN to this family room with pops of primary colors. Modern vibes with pops of BLUES.
Pillows from Houzz & West Elm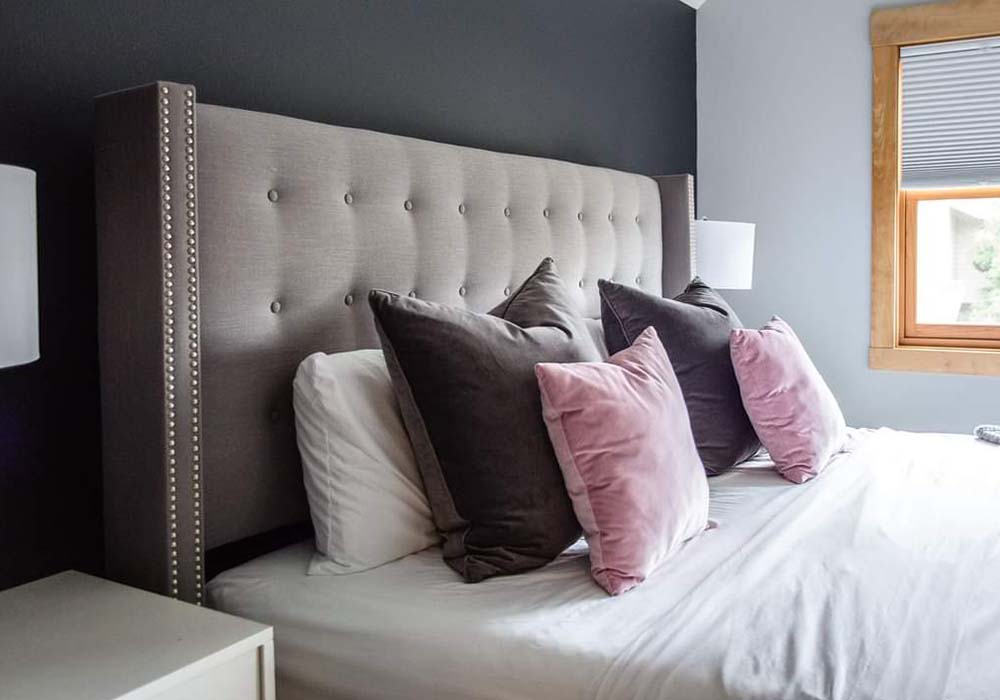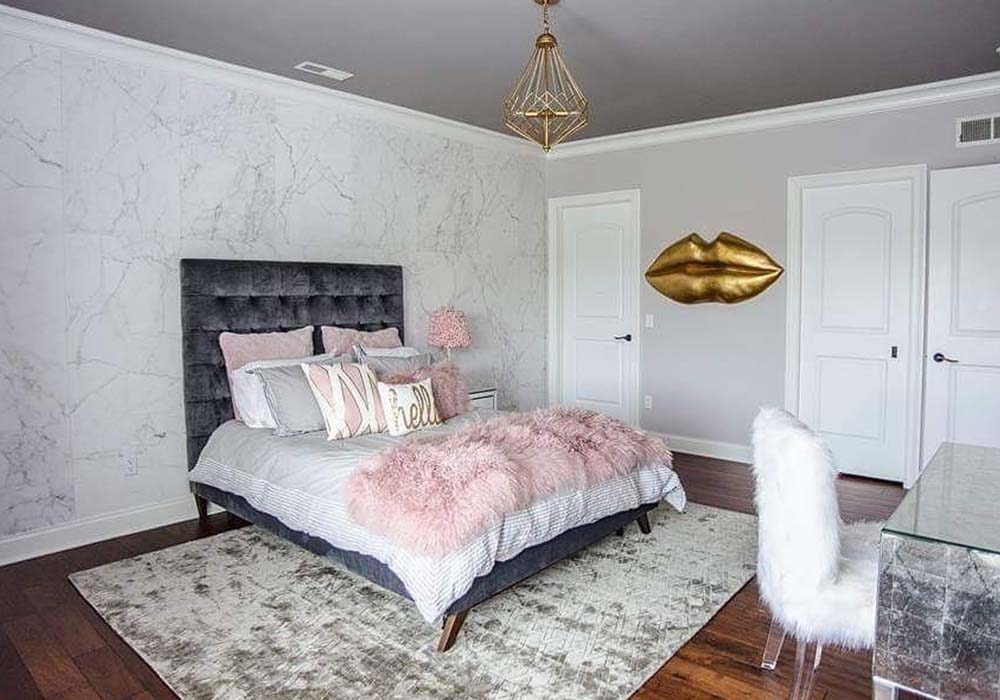 Pillows and throws from RH, West Elm & Wayfair
Shades of Pinks and Blush tones are the perfect pastel shade and a cheery add to these neutral bedrooms. We love metallics year round, but there's just something about a subtle, metallic accent that really gets me excited for spring.
#5- Outdoor Living
Now this is my JAM! Shocking, considering I live in Wisconsin, lol. Whether or not (no pun intended) you have a vast yard or small condo patio, sheeshing up those spaces in Spring provide ambiance and extra living space in the warmer months, and overall get you and your space in the mood for Summer!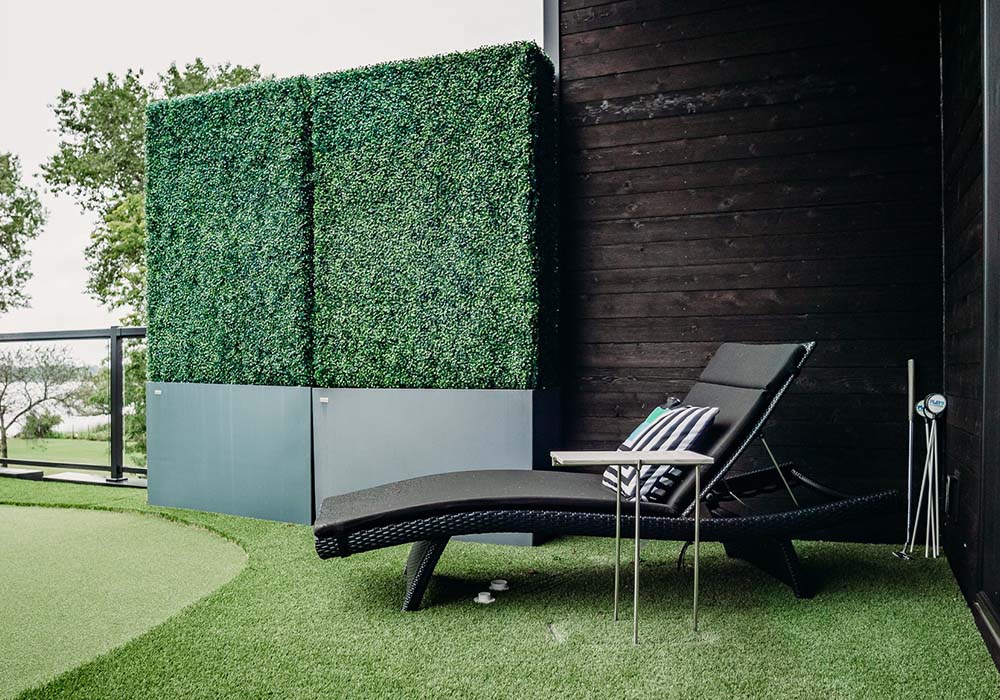 Faux Hedges from Fencescreen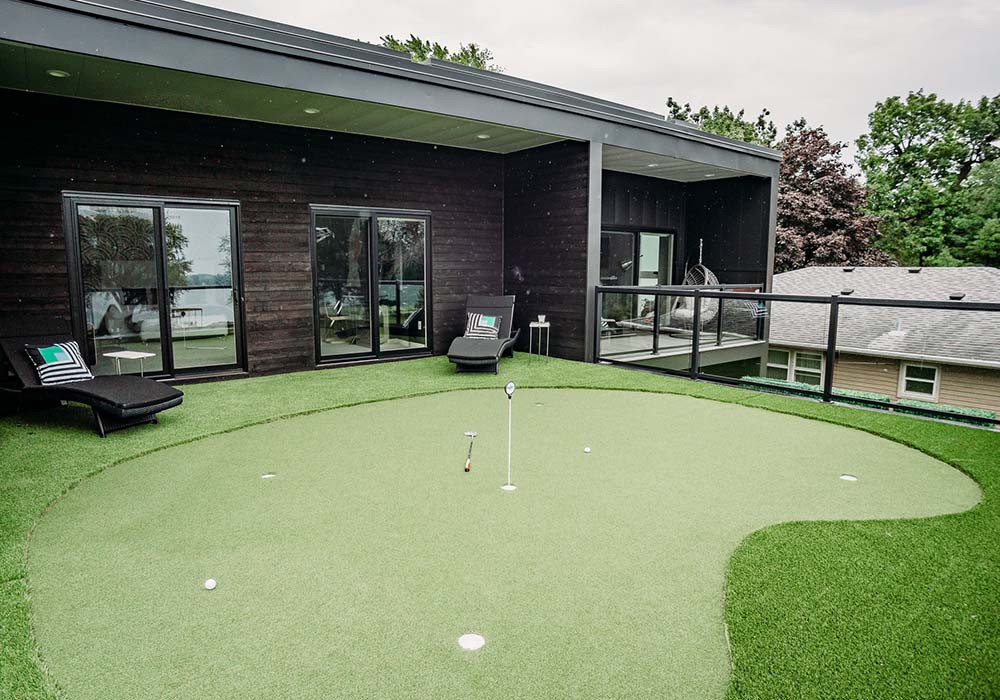 putting green by Playn Wisconsin
Faux Hedges from Fence screen even proved all year round GREEN! Not sure how to finish off your patio, for those golfers out there this 2nd story putting green by Playn Wisconsin is a dream come true. Not a golfer? Adding artificial turf over your patio surface gives your toes a soft, cool surface on those hot summer days.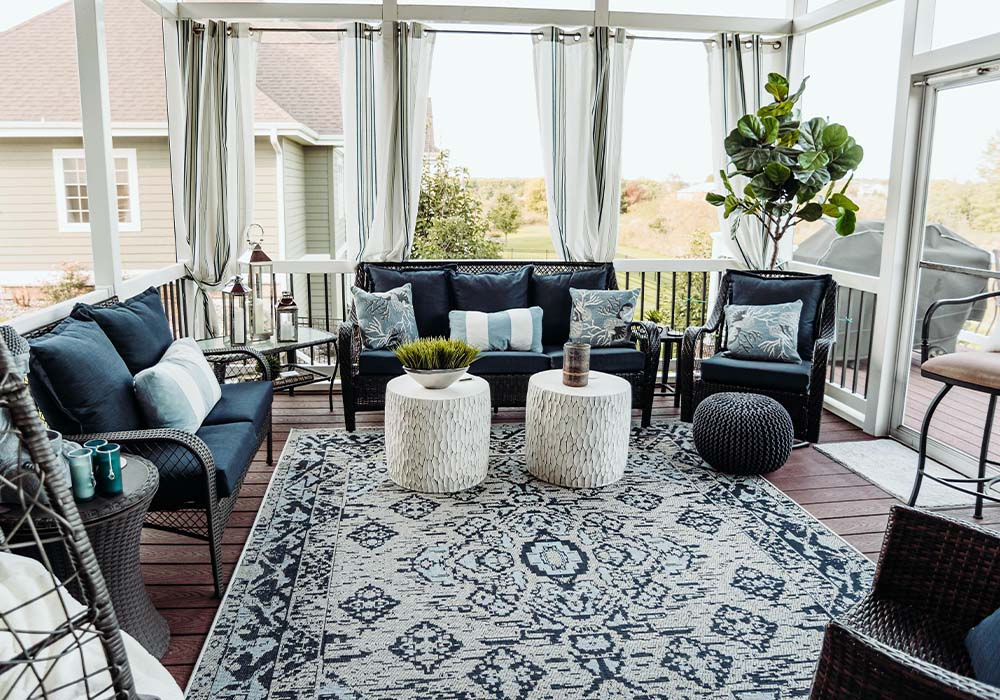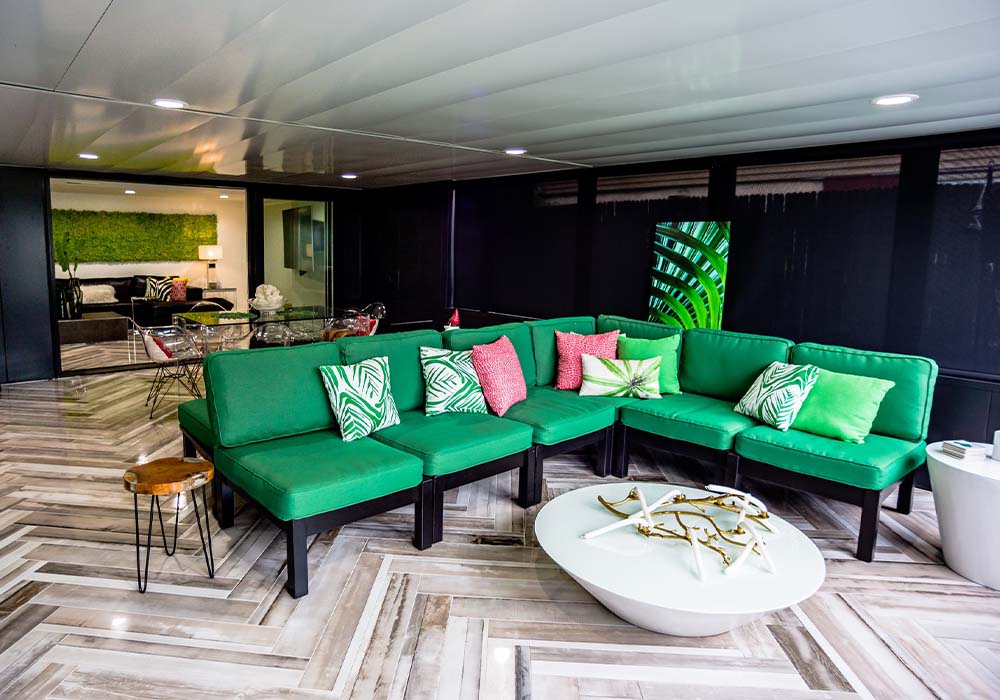 Accessories and furniture from Pottery Barn, Grandinroad & Modloft
pillows are custom made
If you're lucky enough to have a screen porch, always be sure to consider this space just like you do your living room. Its an extension and very visible from your main living space. One way to keep the elements from getting in and keeping your space "pretty" is adding drapes that can be closed for a cost effective way or having acrylic "storm windows" made that can be put back up for the winter. Colors should flow with the rest of your home and don't forget to bring in color and texture.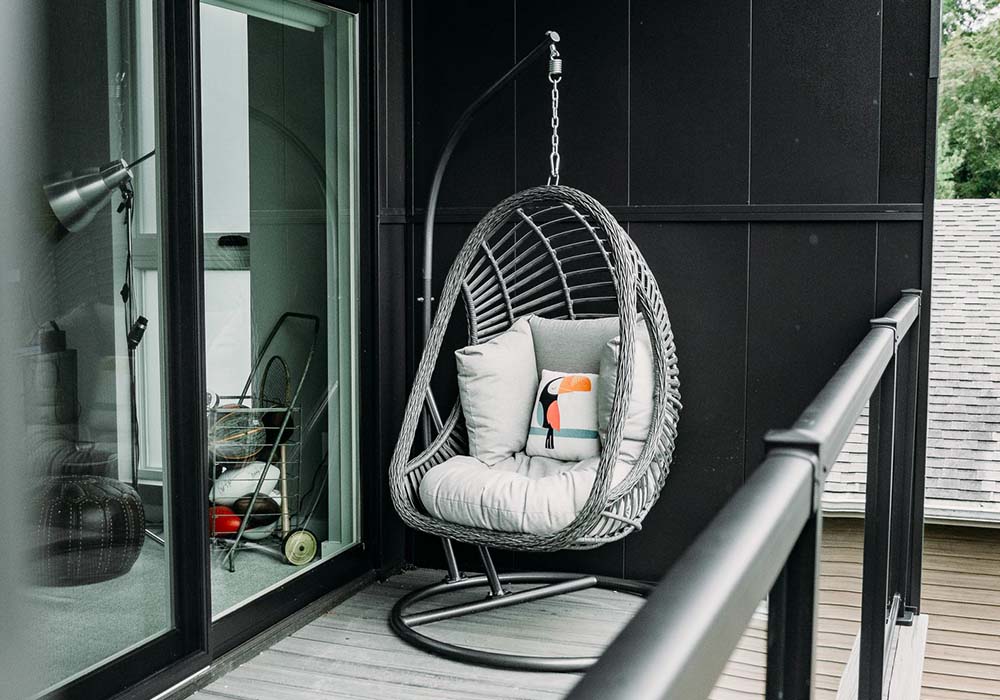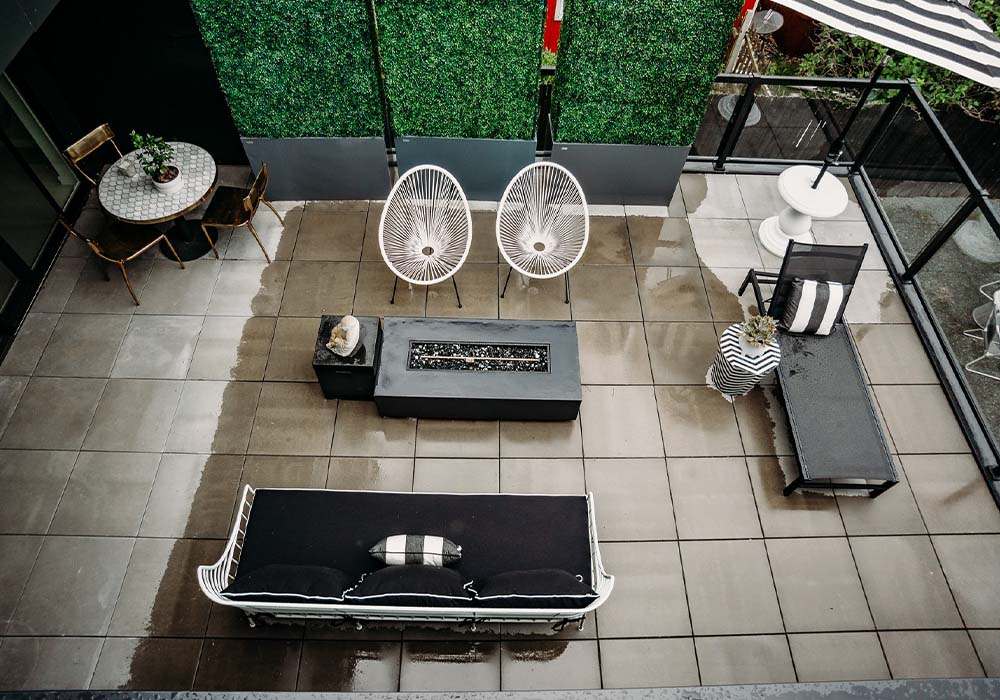 Who says patio furniture has to be boring! A swing chair is not only a cozy element, but adds some modern flair. Firepits, greenery and different types of seating will have you wanting to spend your days outside.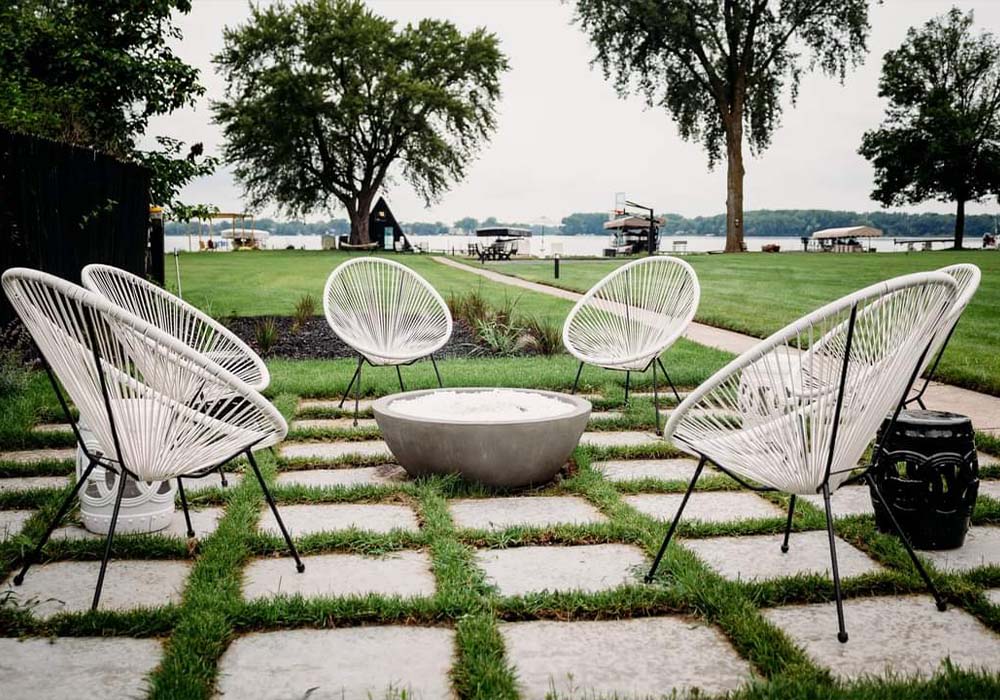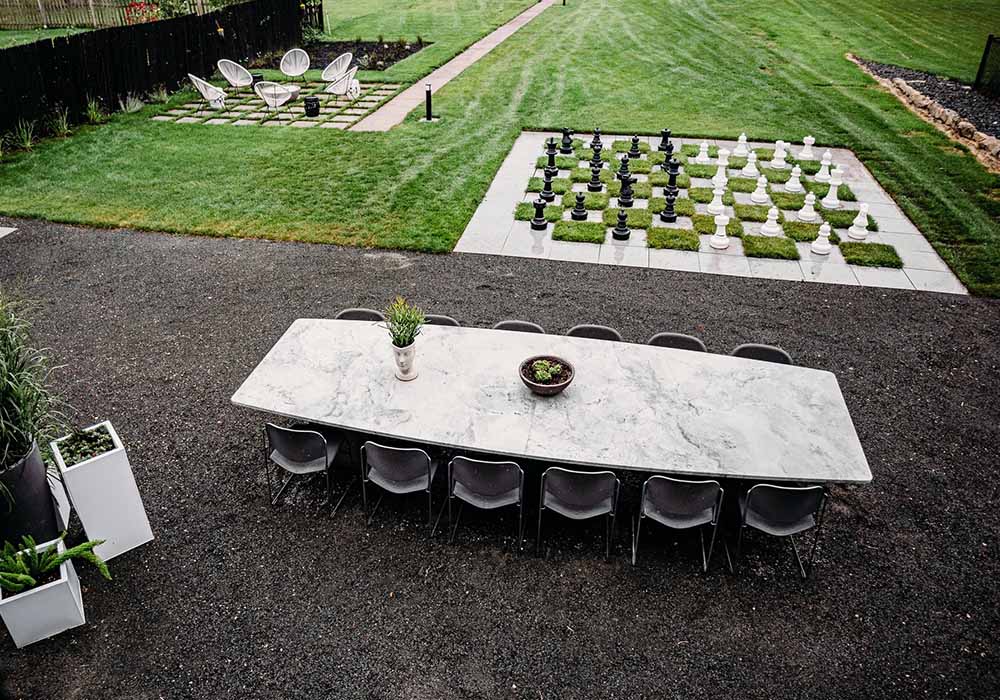 Fire Pits bring friends, family and good times! Add some cool chairs for comfort and a little YARD ART. Make your space purposeful, no matter the size. This space is a perfect example of adding an area to feast, to play and to relax and have good conversation. Stone pavers, like the ones here from Virginia Tile are the perfect pieces for this firepit and life size chess board. Big family? I took 2 slabs of granite and concrete bases to create a perfect table for 16. Stools and planters are also great accessories.
So start making a few changes to your space that echo the changing temps outside! HAPPY SPRING!
xoxo, Stephanie
All pictures are projects of Mader Designs.
Photos by Infinity Images By Cassie.