My Most Difficult Client…Me.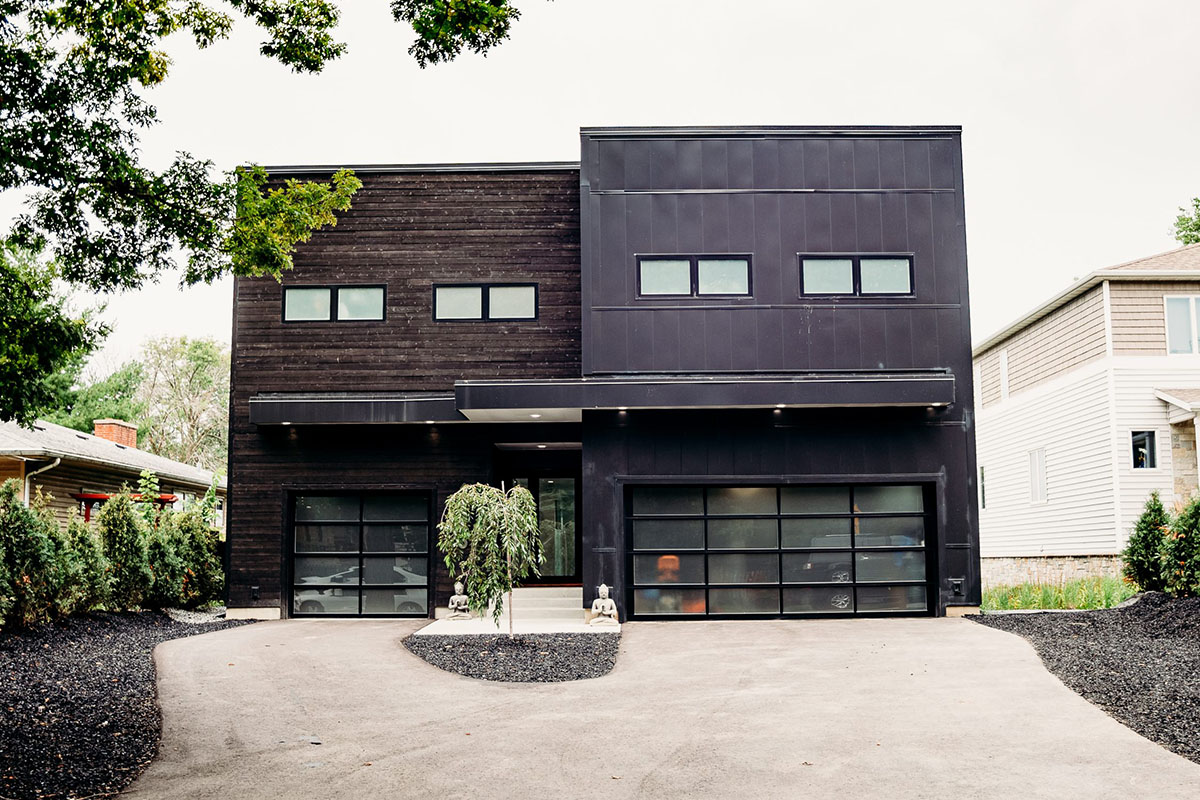 When we relocated to Madison, WI in 2006 and purchased our 1st remodel here
I thought that was it, especially since it was house #12 in my adult life! Quickly I realized suburban living was not for me (that will be another post for another day) My true happy place is on the water, and Madison could not be a better place to live on the lake. Oh and I also get bored easily, just ask my hubby.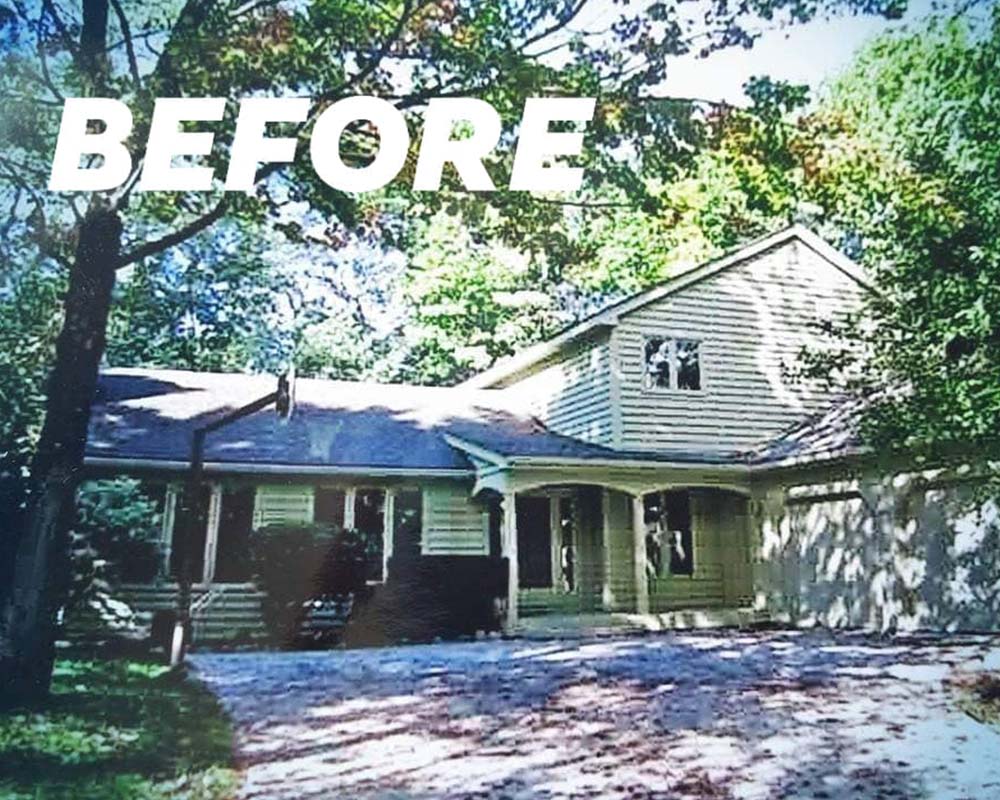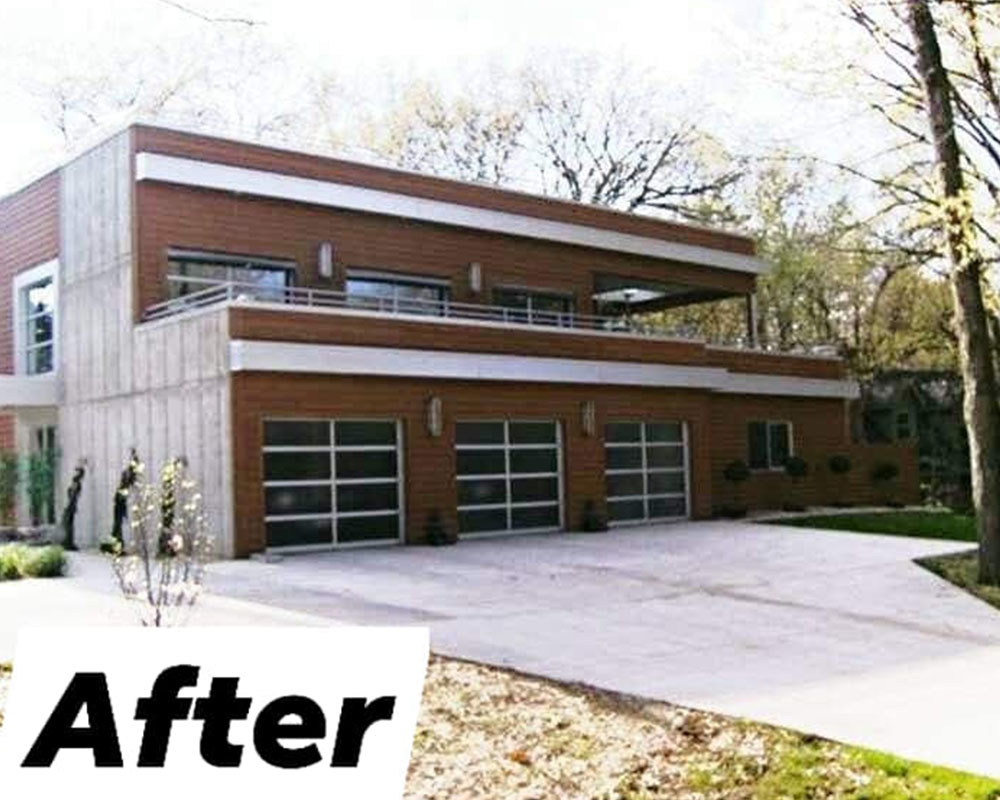 So without a property yet, and just glimmer of an idea, I started my binder. Binder you may wonder?? Well as an interior designer by trade I have the luxury of seeing all sorts of new products and attend many trade shows. This is a positive and a negative when it comes to my personal projects. You see, I find all these funky and eclectic products and ideas. And let's be honest, the average customer isn't always looking for that. So I save them or myself.
After 7 long years of looking for the perfect slice of heaven and continuing to pack my family up every summer for the "Northwoods", we found the one! Well, most people may not see it as perfect, but I am always looking for that diamond in the rough.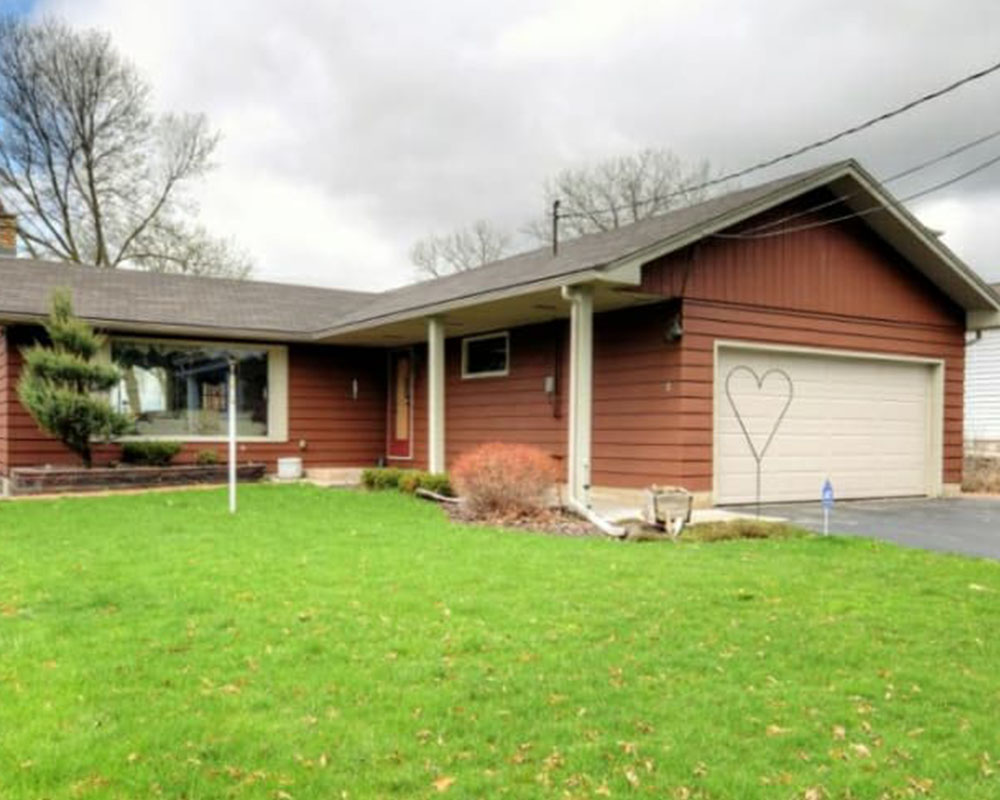 Road Side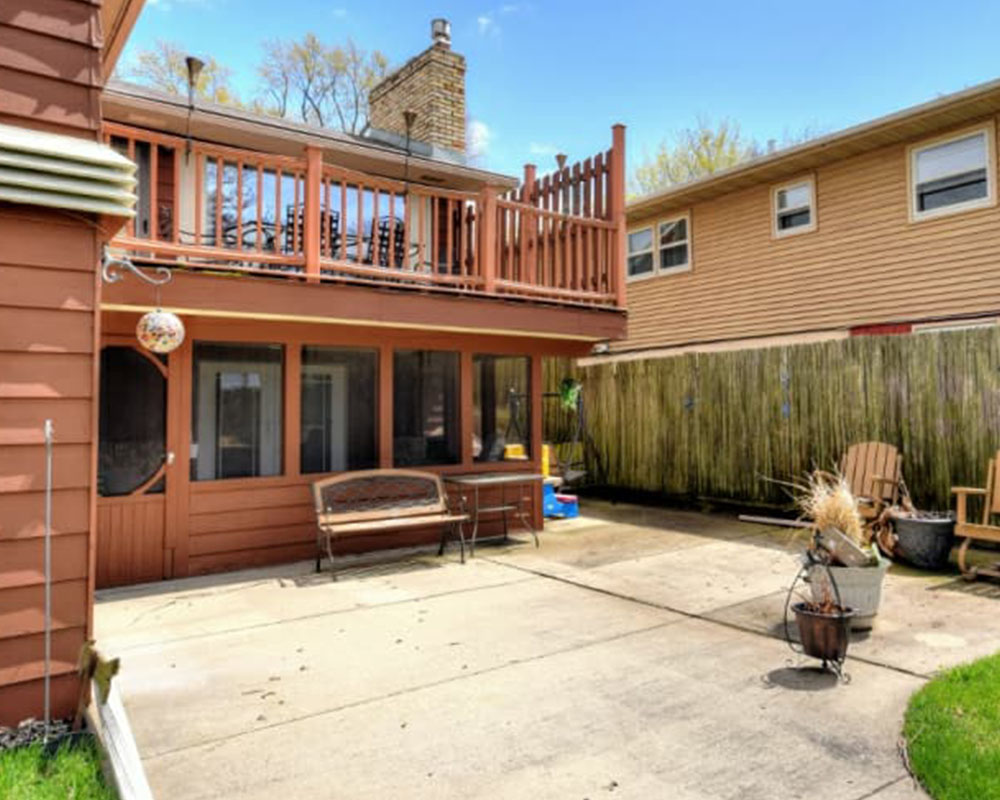 Lakeside View
I thought finding the property was going to be the hardest part, but boy was I wrong! After we closed on the house the first thing I did was call friend and architect Steve Schulfer at Sketchworks Architecture. I knew we could not do this without the perfect architect and structural engineer. Especially on the water! The goal was t0 gut the existing 2 story house and build forward 32′. After 18 months of zoning meetings and thousands of dollars spent on planning, we were told that was not going to happen…. Now I was determined more than ever!
After almost another year we finally got our permit!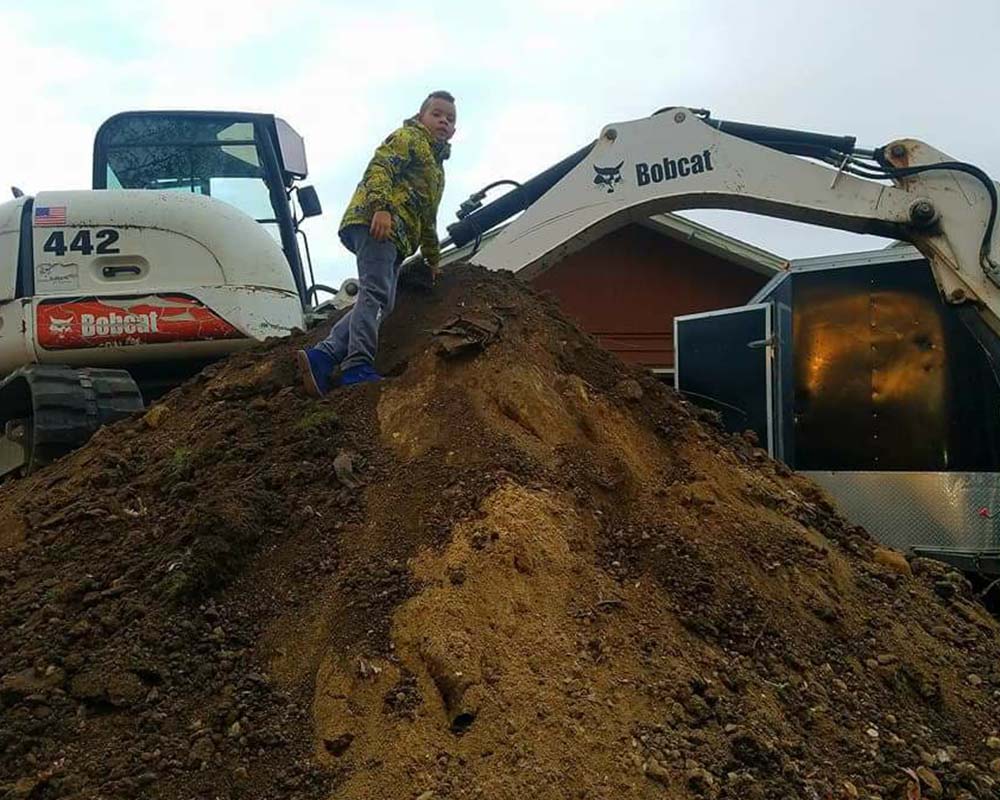 Boys love nothing more than a big dirt pile and grown up sandbox toys. Start of demo. My son Hawk, age 8.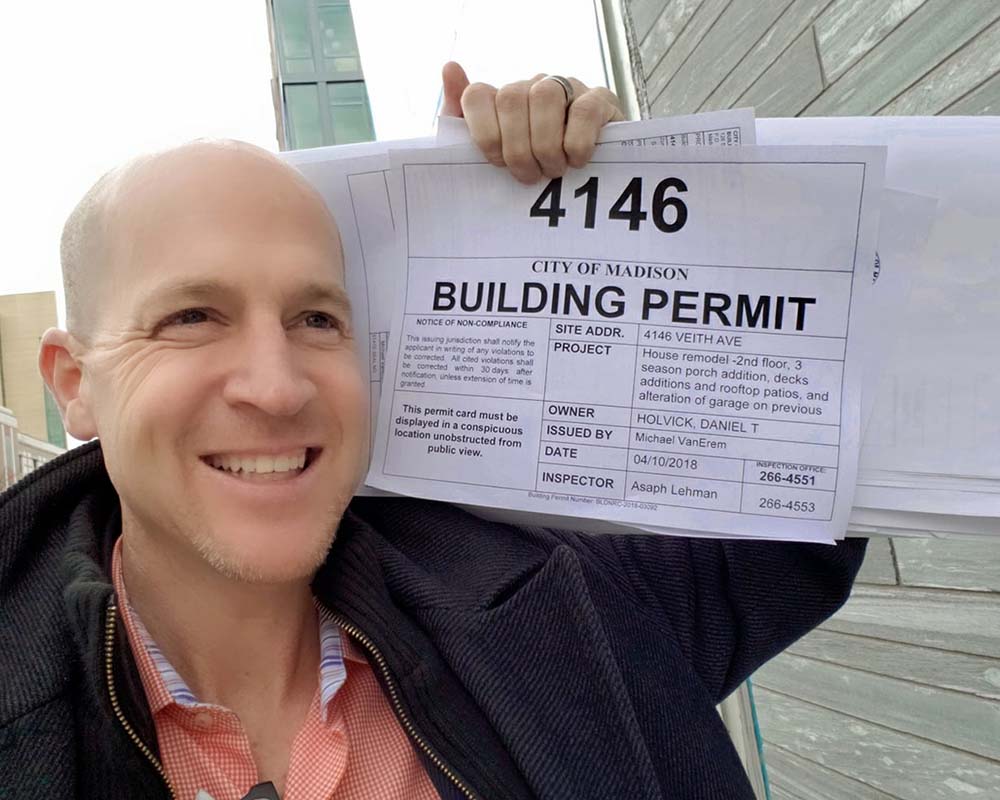 My hubby Dan proudly holding the permit… boy is he ever glad this part is over.
So much for downsizing and building forward…. now we are going up! Adding another story certainly doesn't make things easier and adds a whole other level of complication. Oh and that's the year Madison had the worst flooding in over 100 years. So we started not once, not twice, but 3 times to get this project off the ground. Definitely determined more than ever now, and gained a few more wrinkles.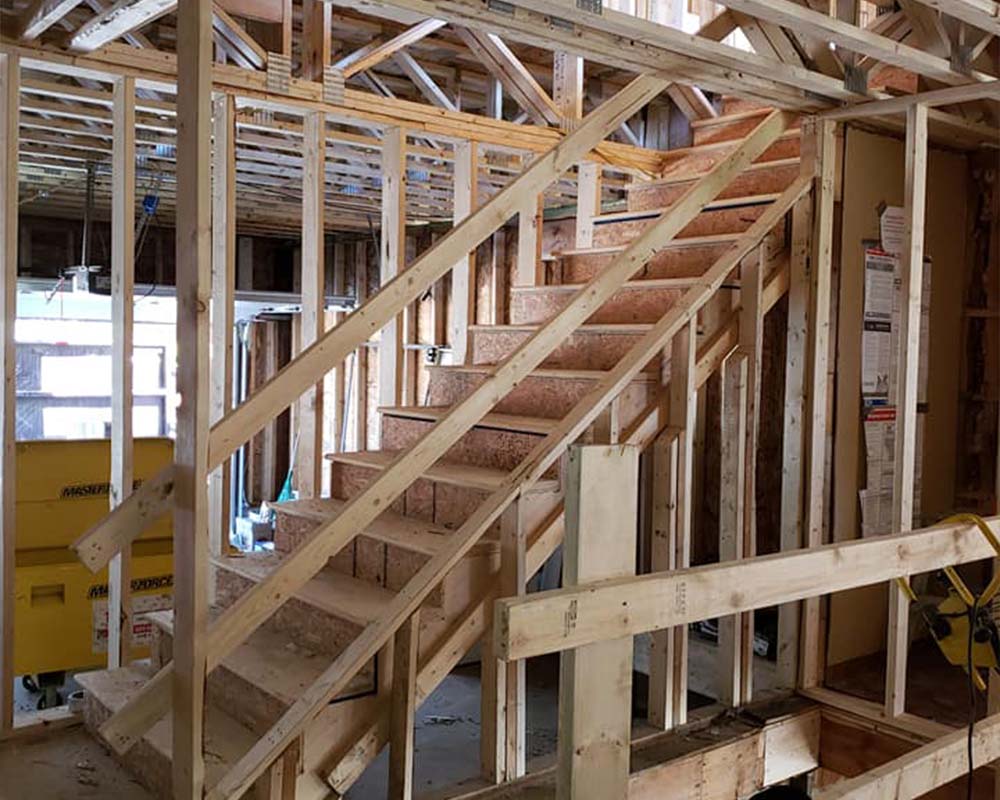 And here goes the 3rd story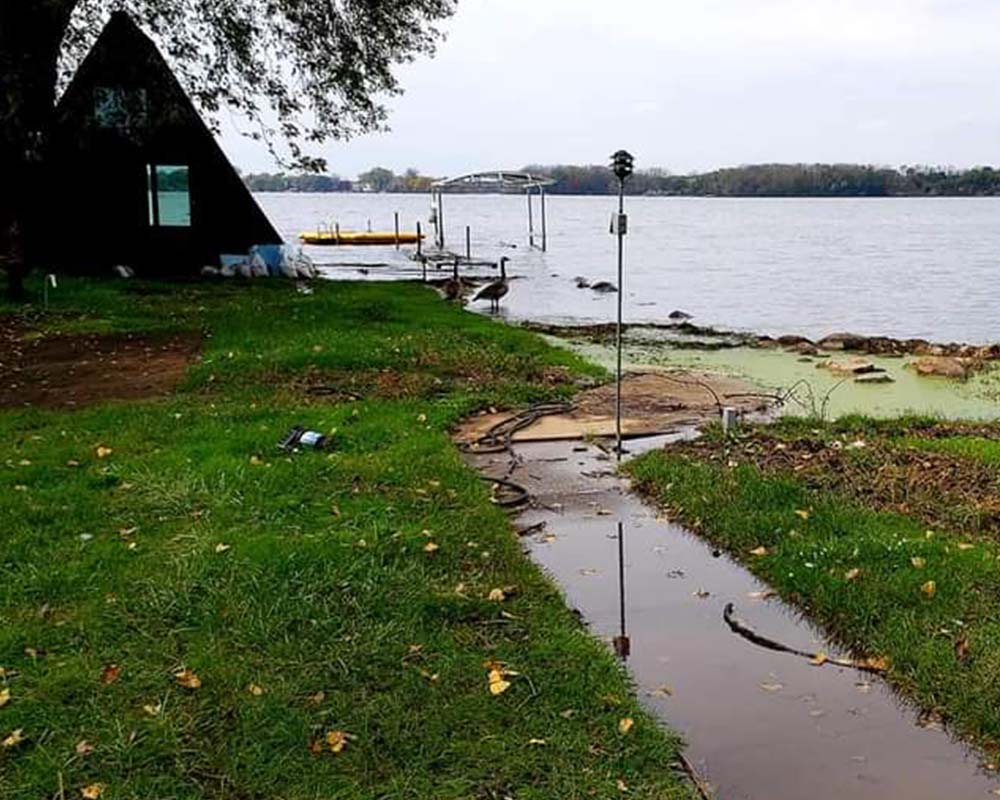 And now for the FUN part! I am naturally drawn to things that are different and not on trend, and pride myself as being a trendsetter. So of course I needed this house to be all black on the outside, something in 2017 NO ONE was doing, at least not in the Midwest. And not just black, the materials needed to be interesting. I needed a perfect frame for my art piece.
Oh did I mention, I am obsessed with Shou Sugi Ban??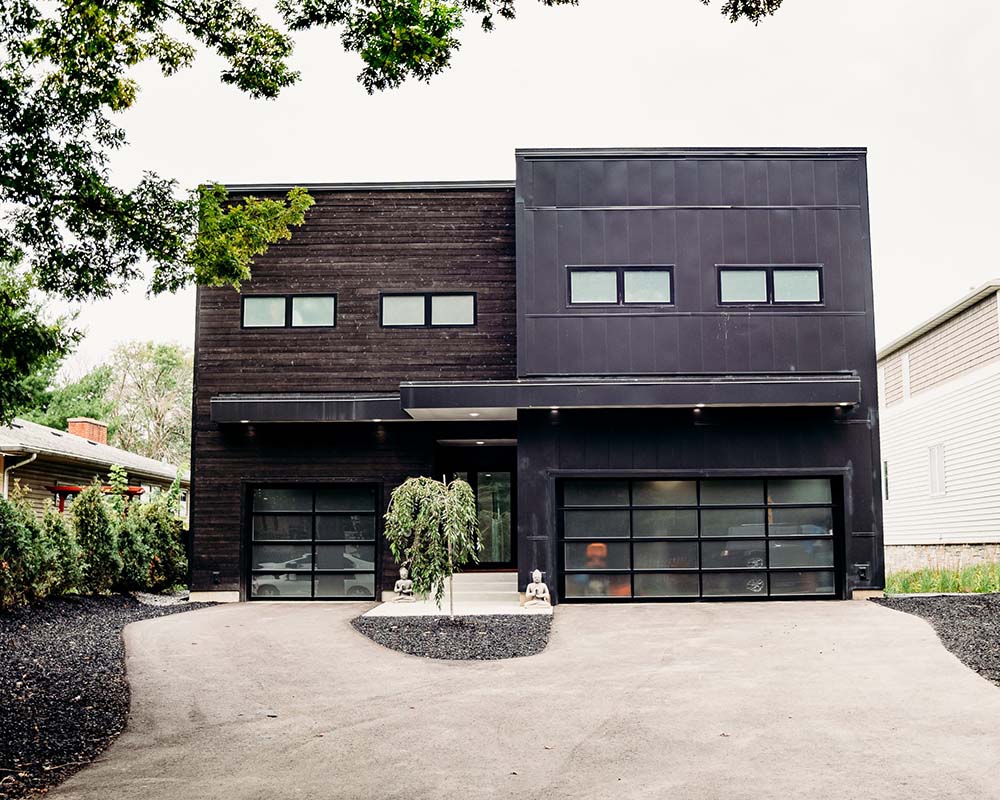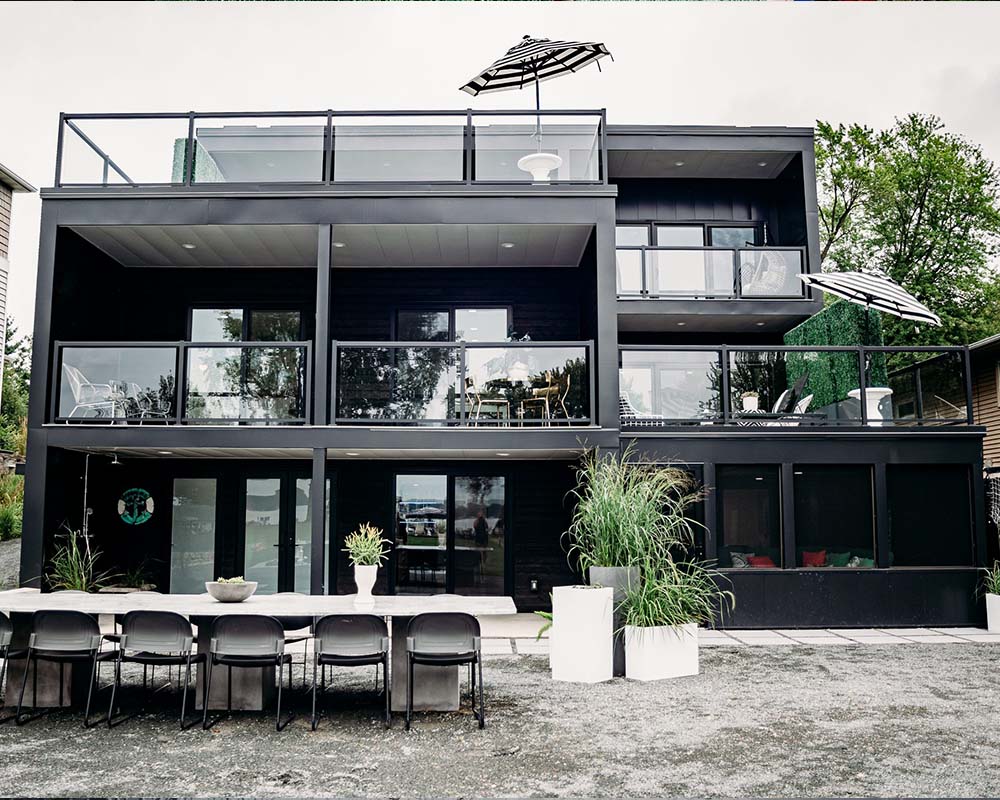 Charwood siding by Montana Timber Products and PAC-CLAD metal panels make up the siding, accented with glass panels for a seamless view of the lake and glass paned overhead garage doors.
Its hard to just pick a couple of favorites when you have a binder full of them, but the outdoor space really is special here, and where we spend most of our time. I was lucky enough to have an "A" frame boat house come with the property. Around the lakes here you are not allowed to build anything new on the water, or even tweak an existing structure, so this was like winning the lottery as far as I am concerned. I created over 1500 sq ft of patio space on the house and then continued with the FUN factor out the door of the oversized screened porch leading to Lake Mendota.
What do you do when you have 300 feet of flat yard? Make it your personal playground!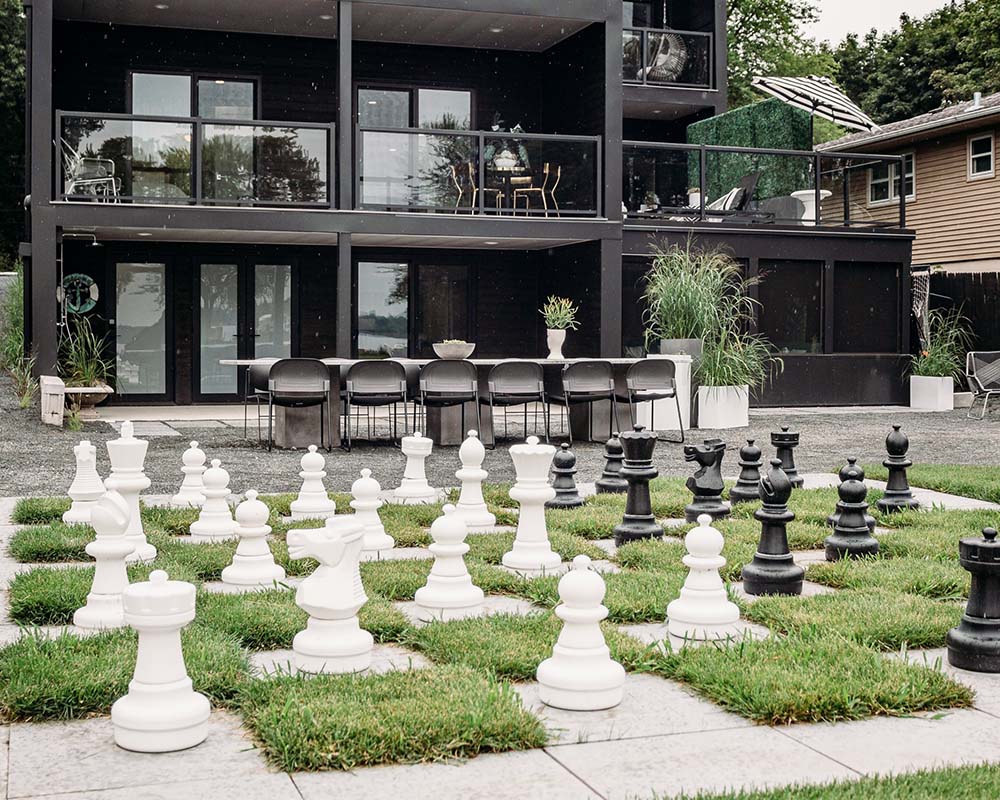 A life size chess board is the perfect interactive landscape piece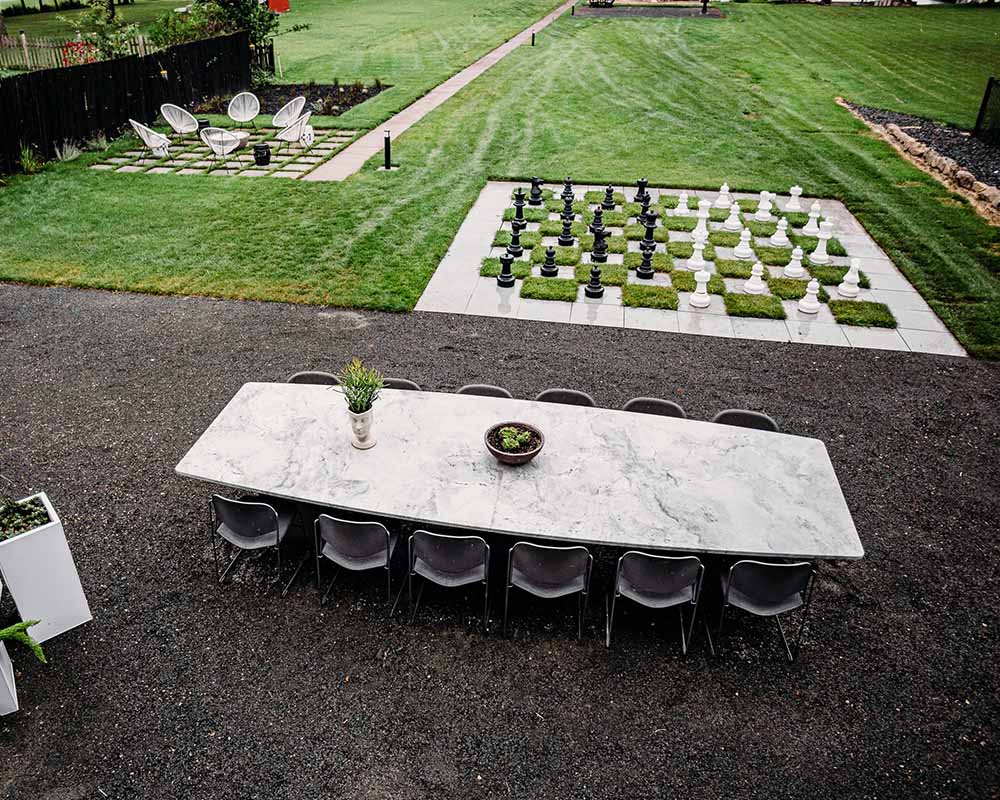 2 full slabs of Super White granite make up this patio table for 18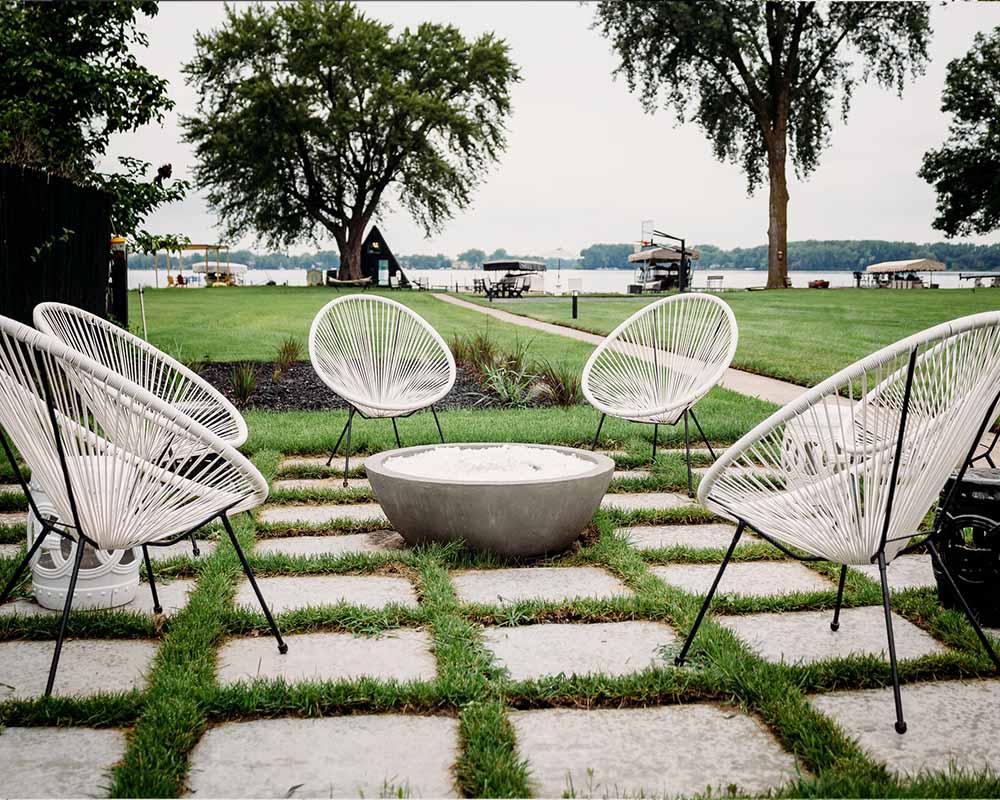 The gas firepit is perfect for marshmallow roasting. Virginia Tiles Atlas Concorde in seastone gray for our pavers.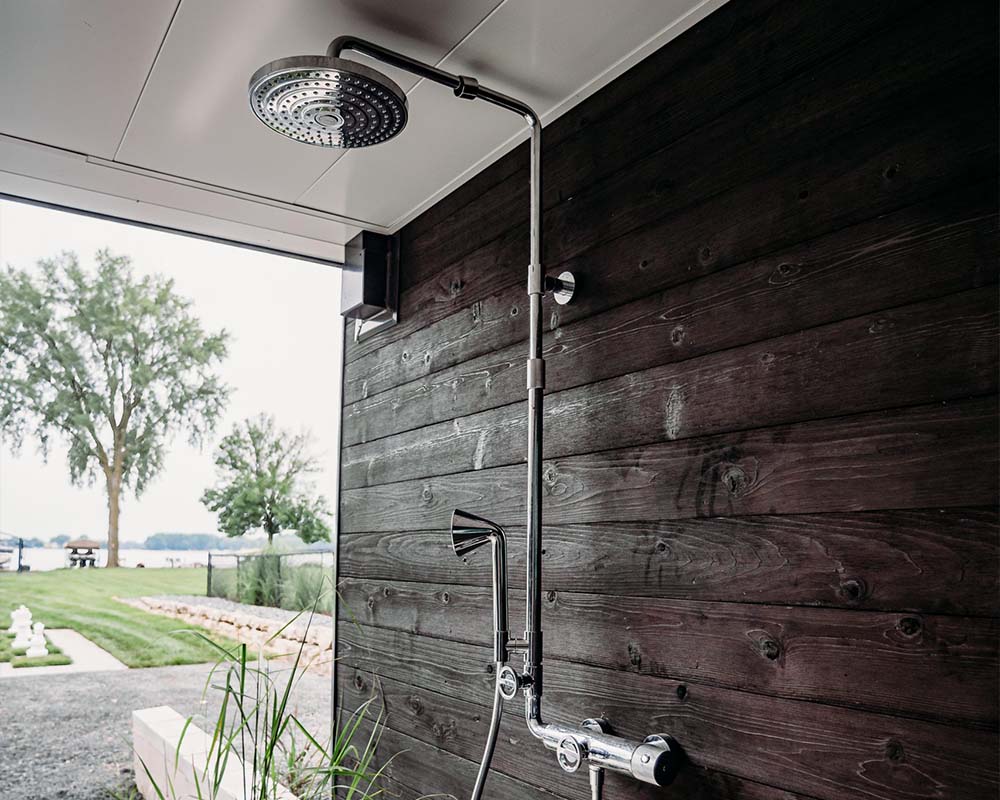 Outdoor shower is a must have to keep sand out of the house- Hansgrohe – Axor shower in chrome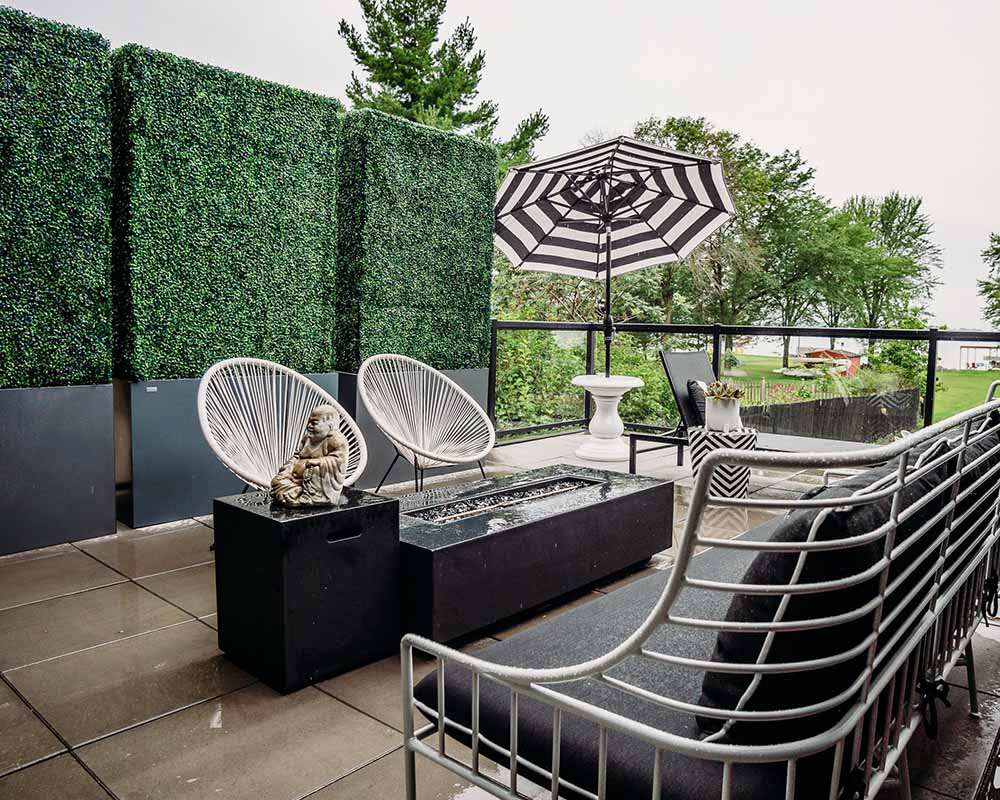 Privacy hedges by FenceScreen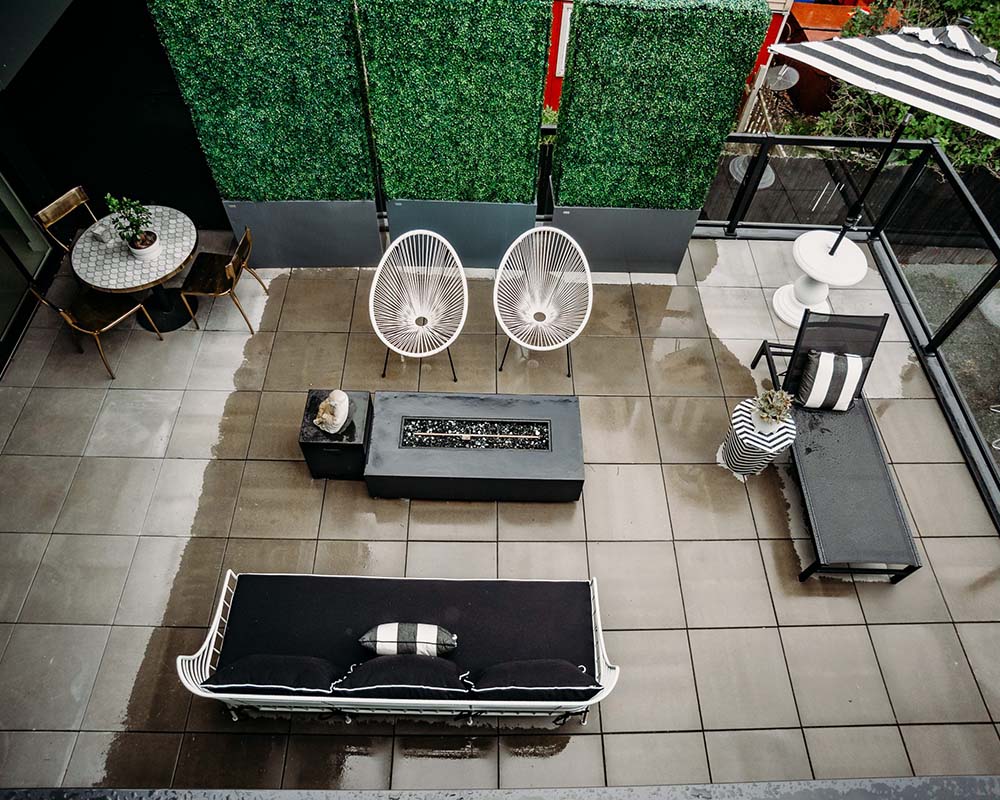 Patio furniture by CB2 and Frontgate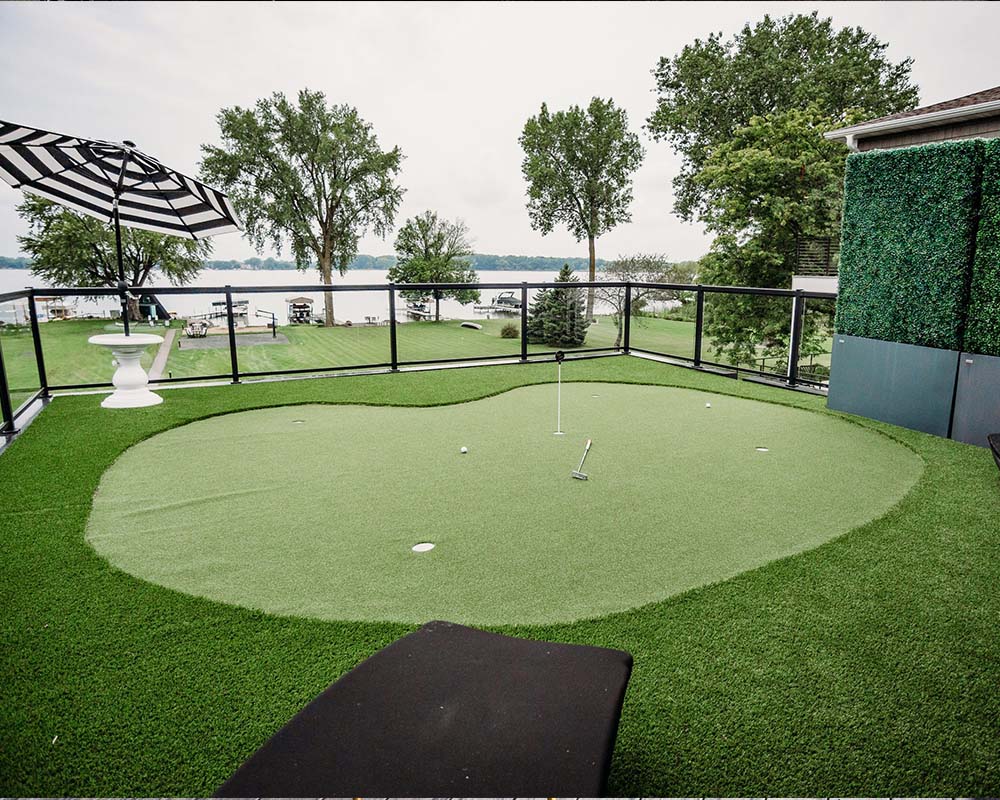 A surprise bonus for my hubby, a professional putting green by PlayN Wisconsin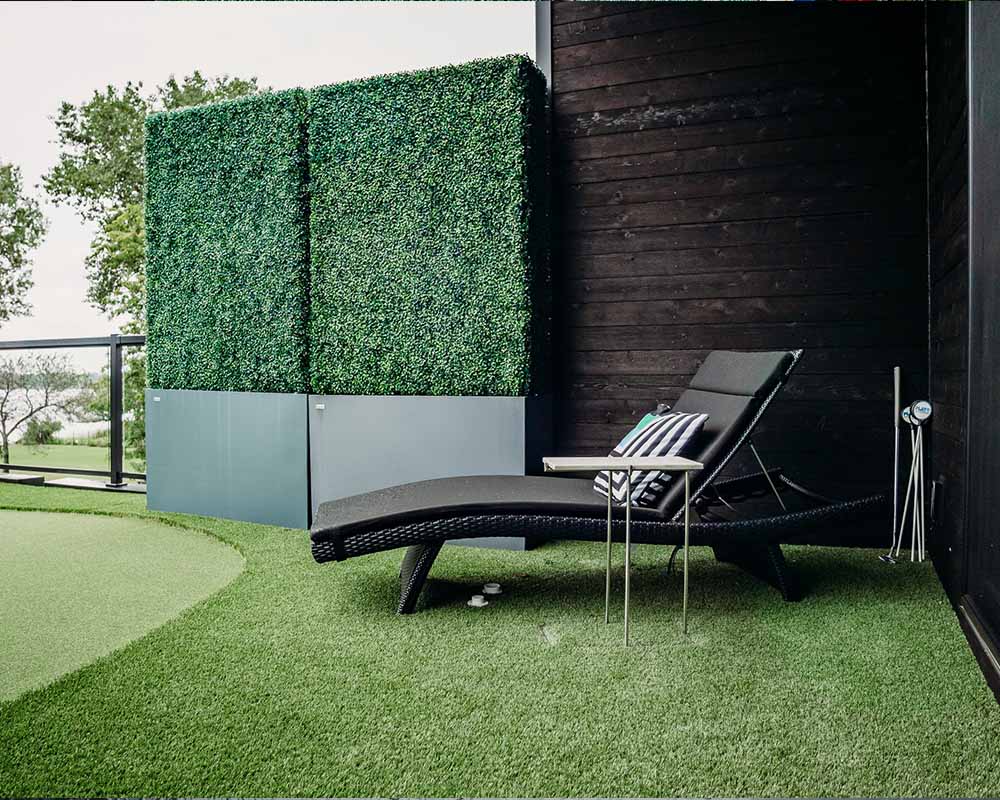 Patio furniture from Frontgate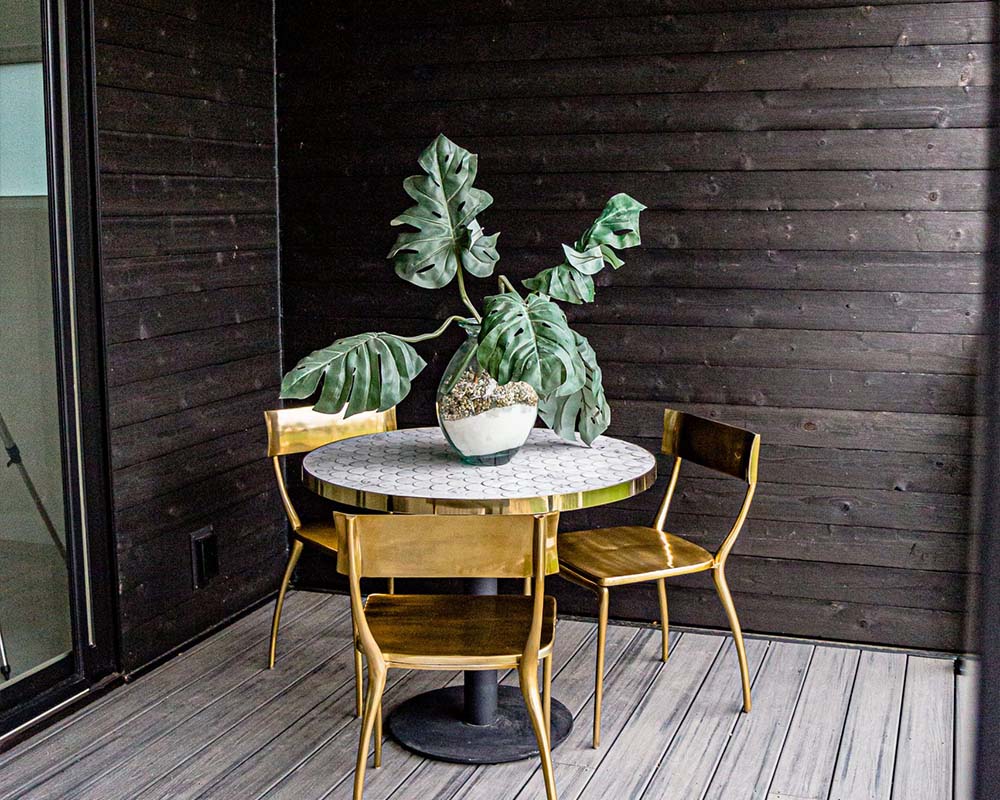 Gold chairs and white Carrara marble table from CB2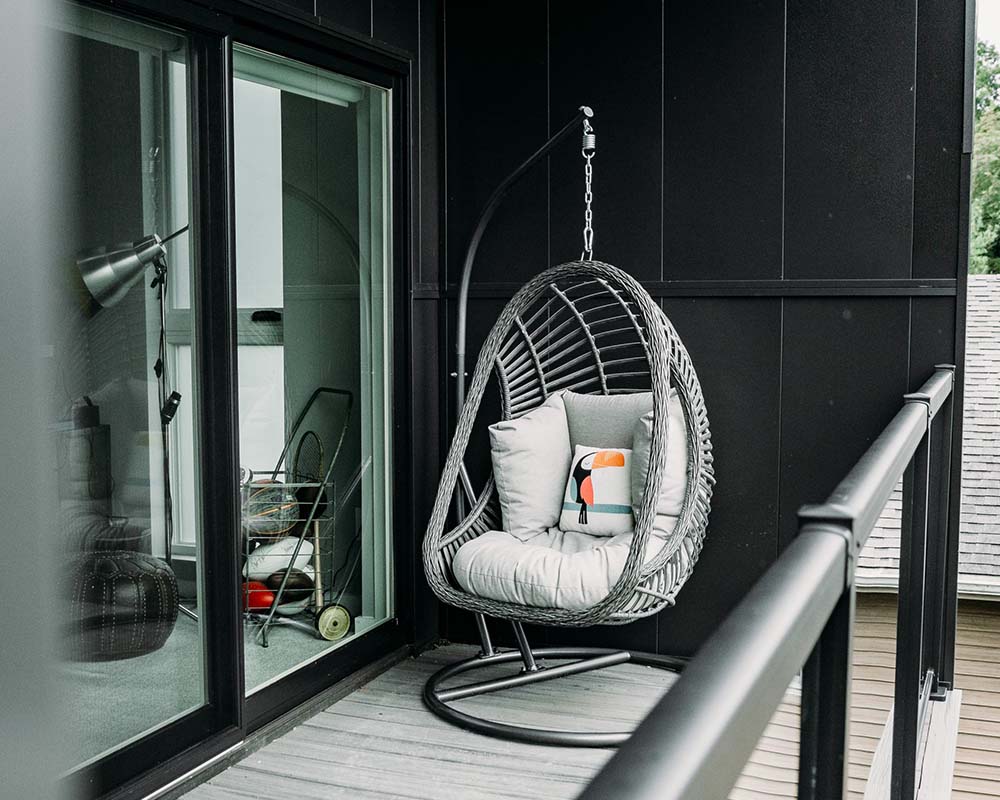 Hammock chair by Mistana
Front Entry & Kitchen – Before & After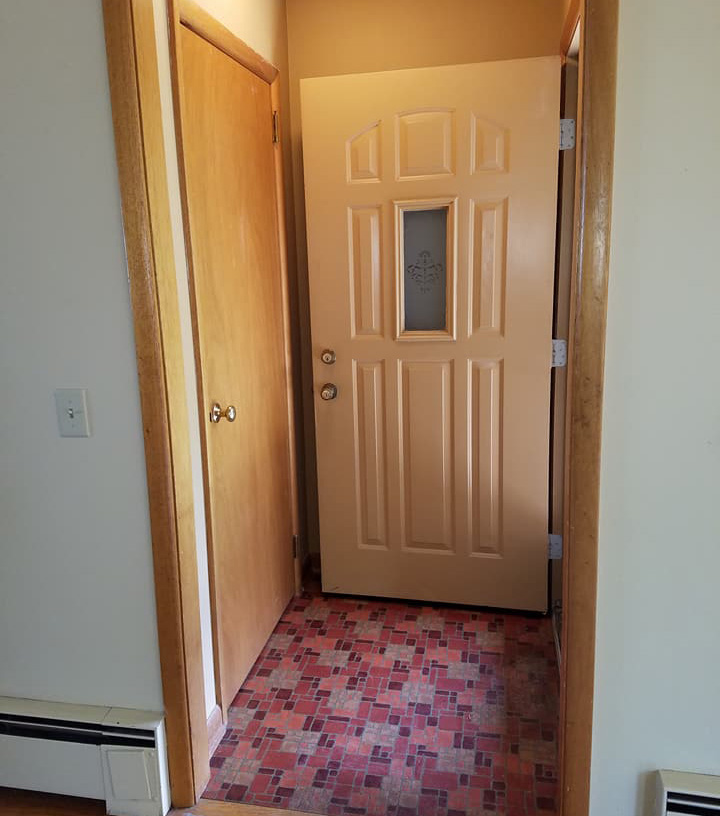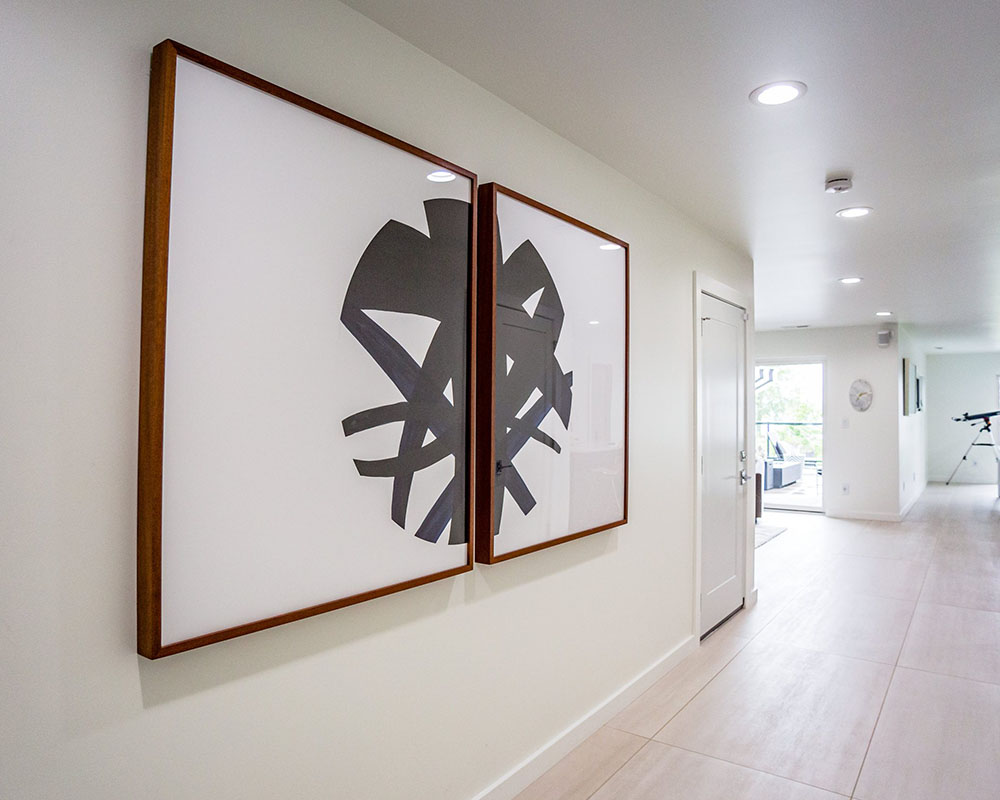 artwork from Crate and Barrel- Curated Collection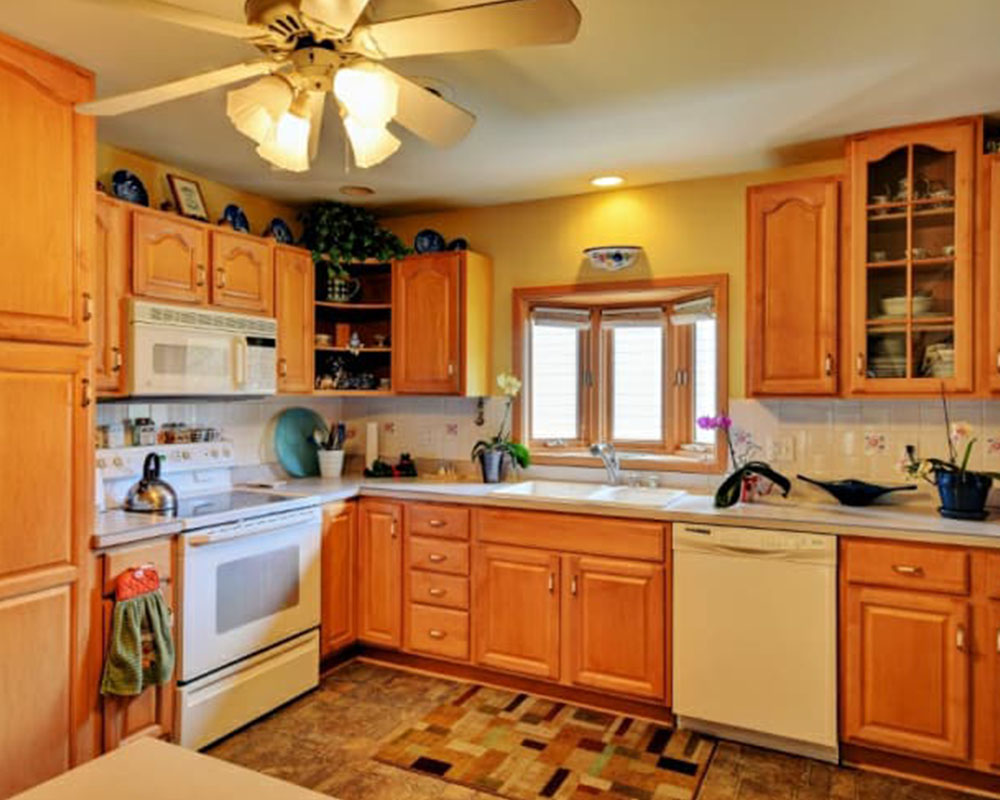 Custom charcoal gray cabinets accented with Bend Goods copper counters tools and "HAND" Jonathan Adler fruit bowl
Main Bathroom – Before & After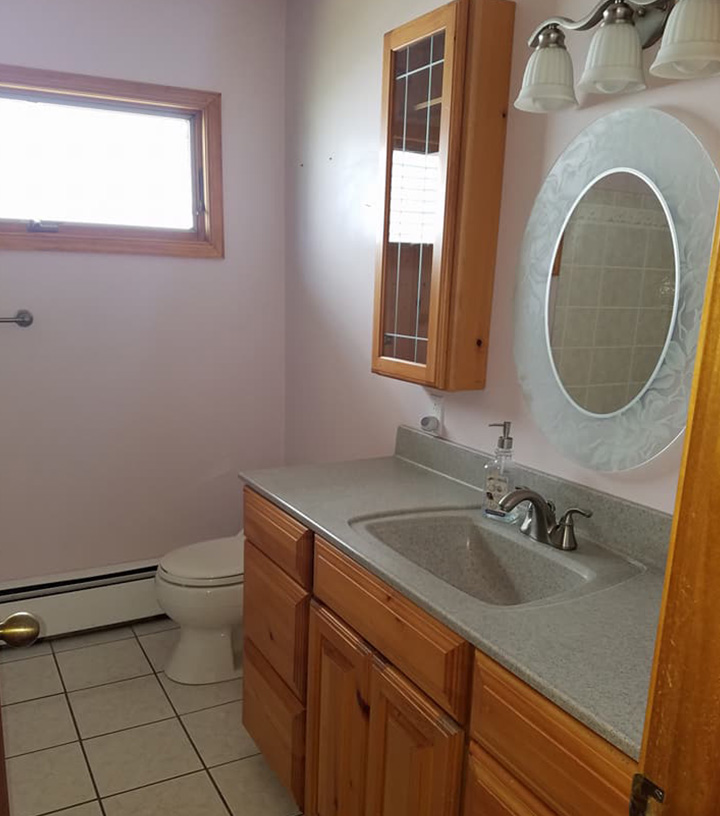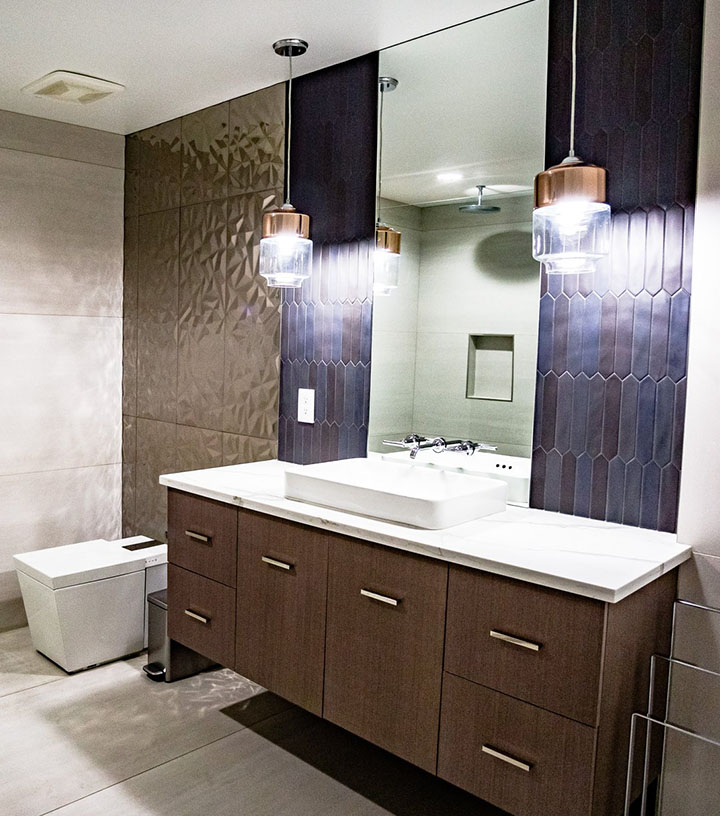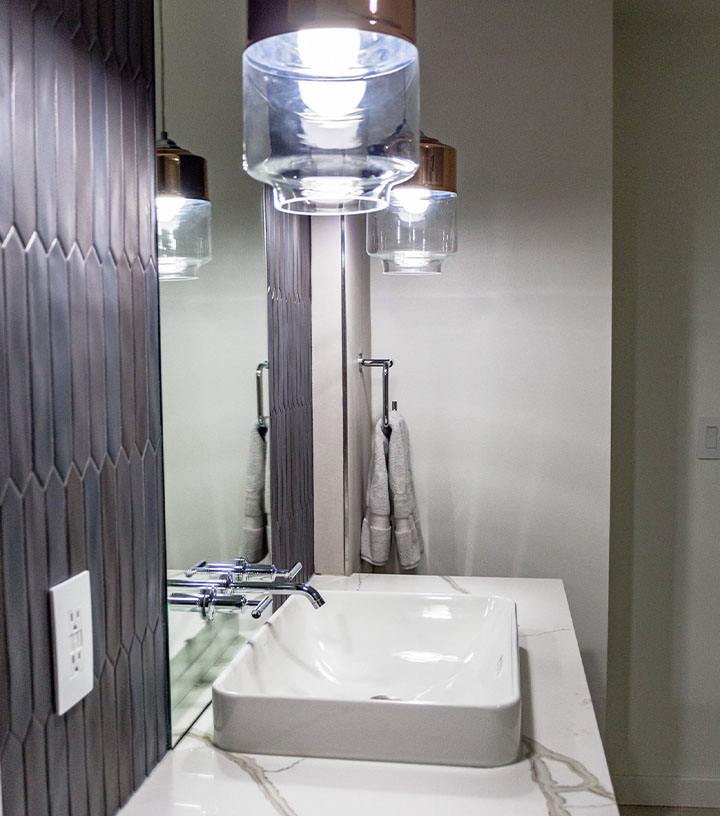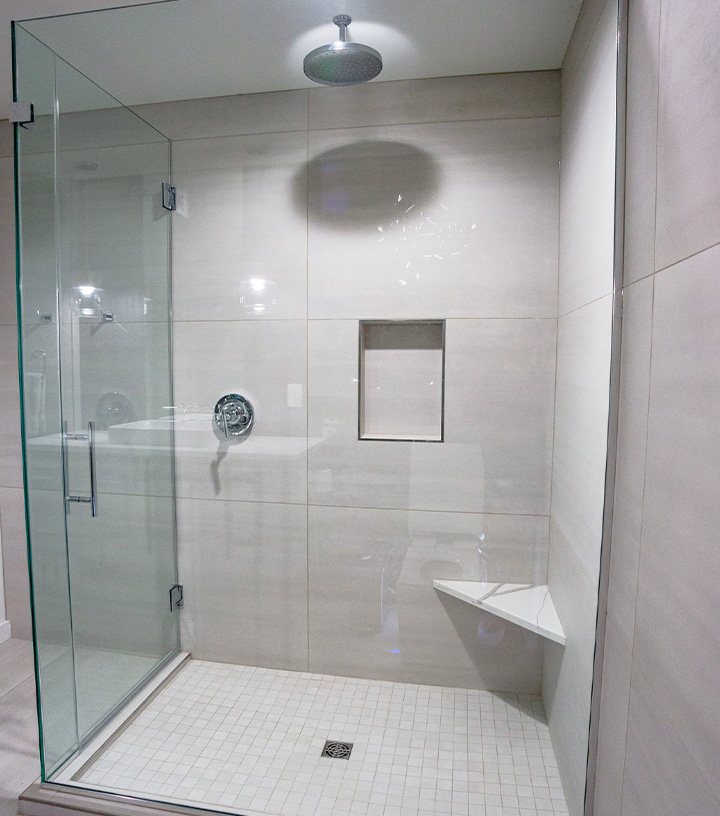 Kohler faucets, sink, NUMI smart toilet, Porcelanosa chrome wall tile, Virginia Tile WOW Gradient Crayon in black wall tile and Atlas MEK metallic white oversized floor tile.
Living Room & Lower Level – Before & After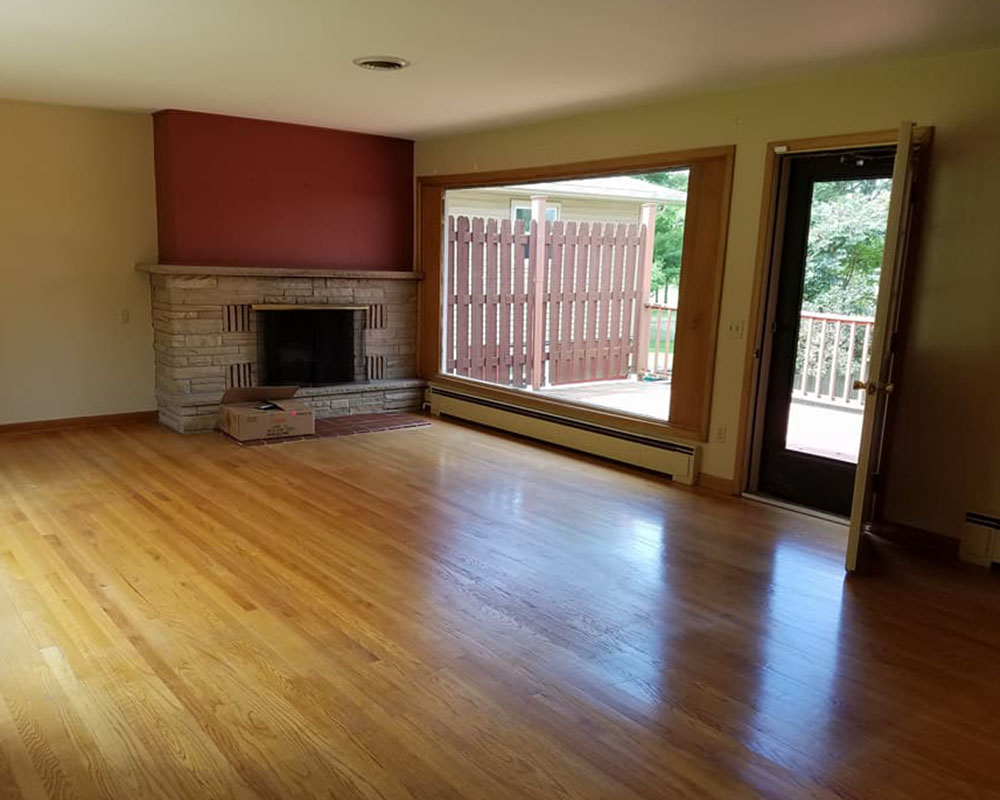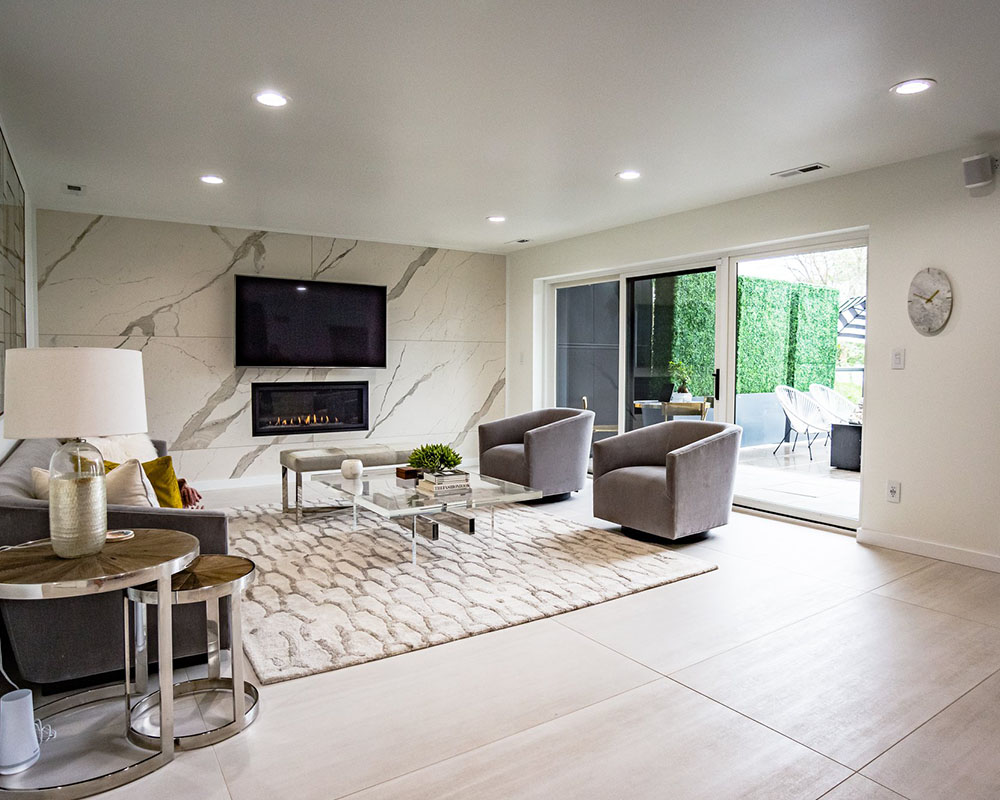 Virginia Tile Laminam porcelain panels for the fireplace wall, Restoration Hardware vintage velvet furniture and William Sonoma Home acrylic coffee table.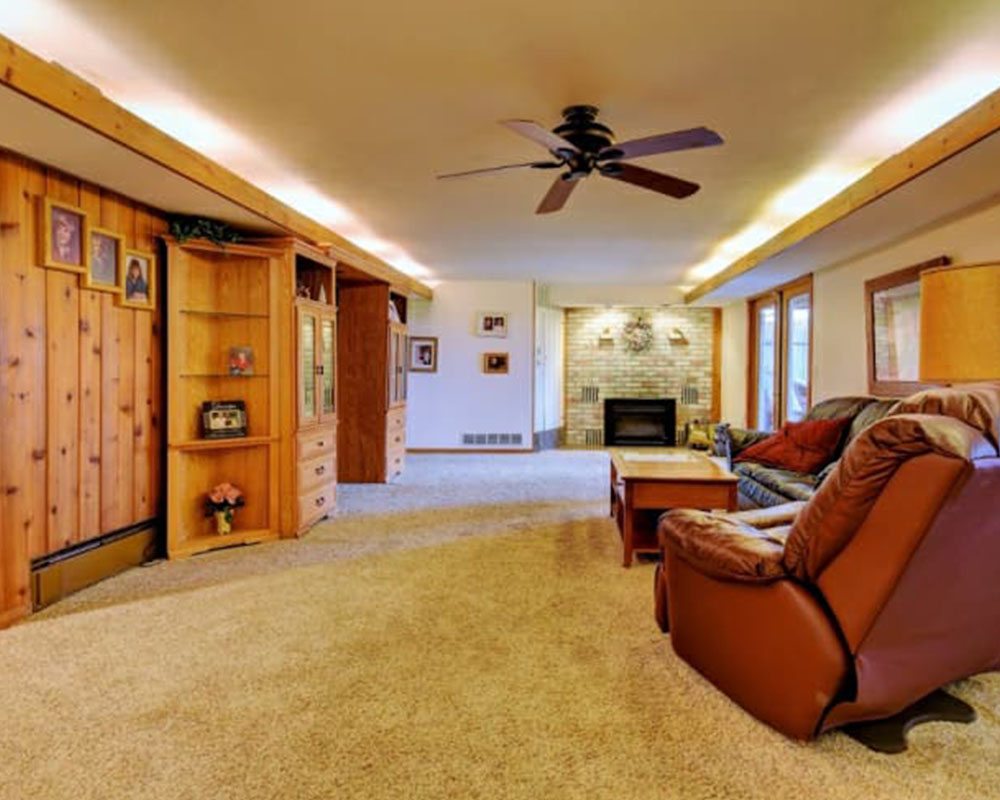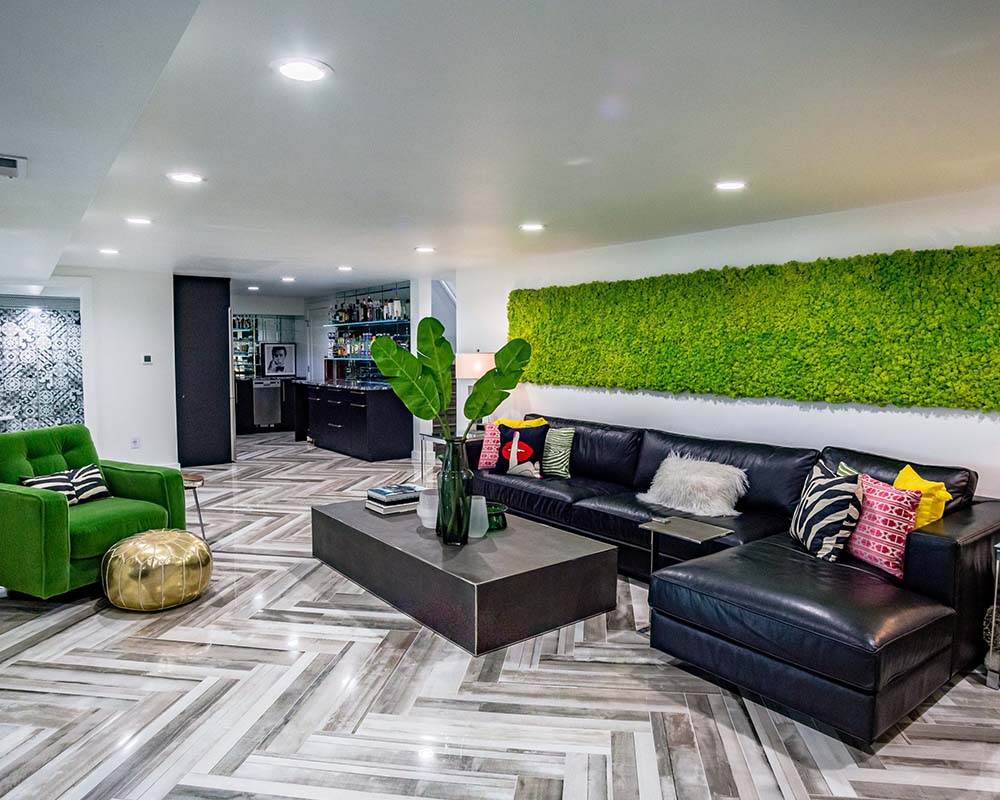 Hydra moss wall, Restoration Hardware leather sectional, RH shagreen coffee table and Urban Wood petrified look porcelain tile with Schluter heated floor mats.
Old Bathroom Becomes a Bar & Screen Porch – Before & After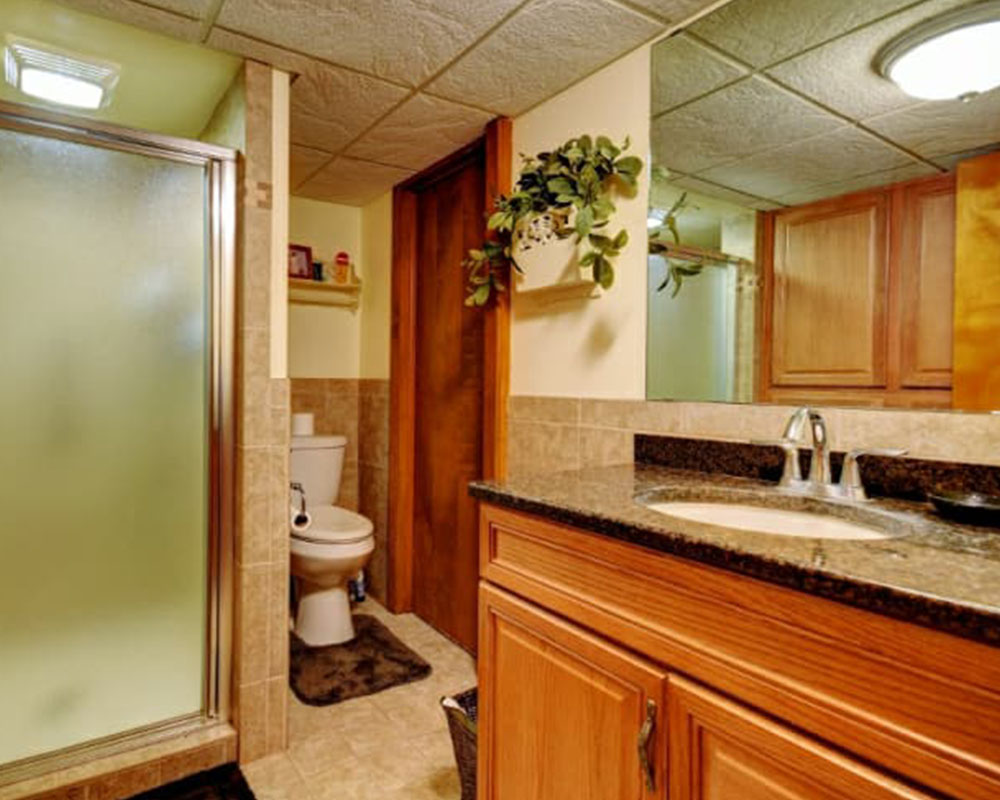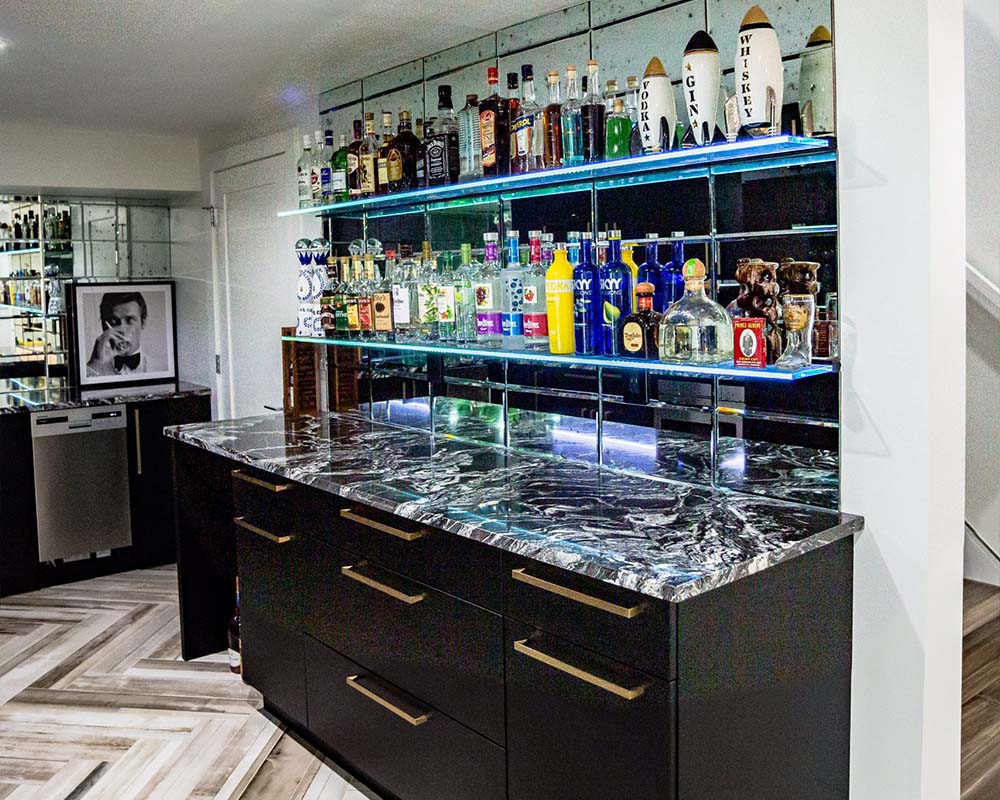 Matte black cabinets with brushed gold hardware, vintage mirror backsplash and glass shelves by Hellenbrand Glass with LED lights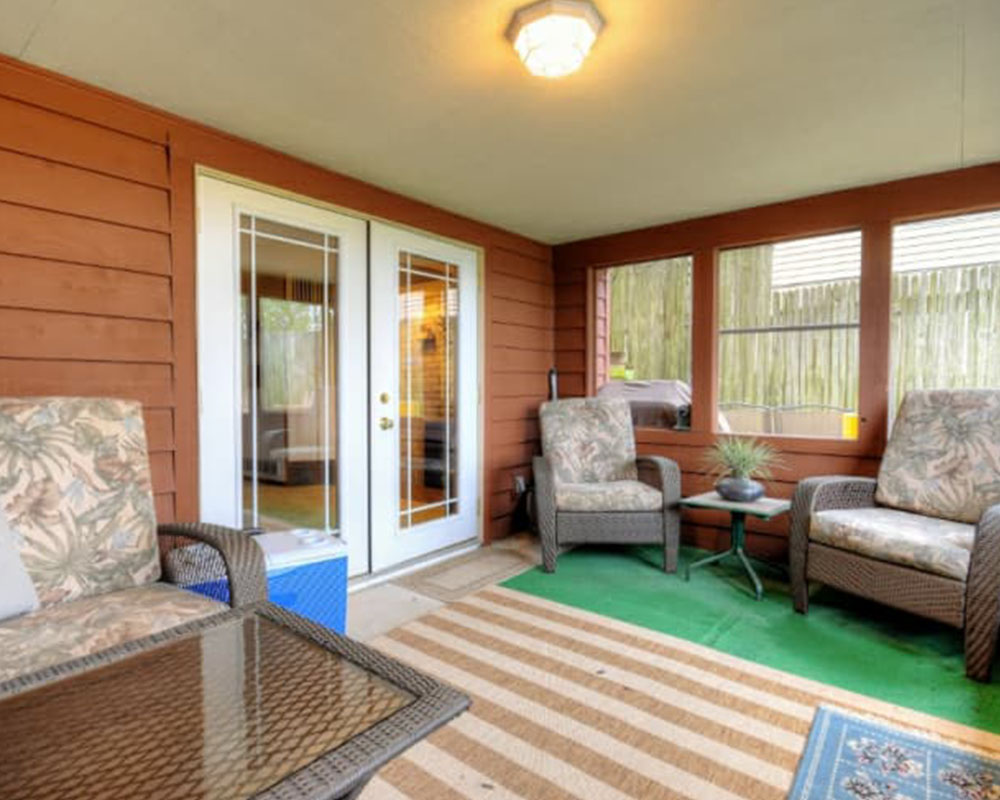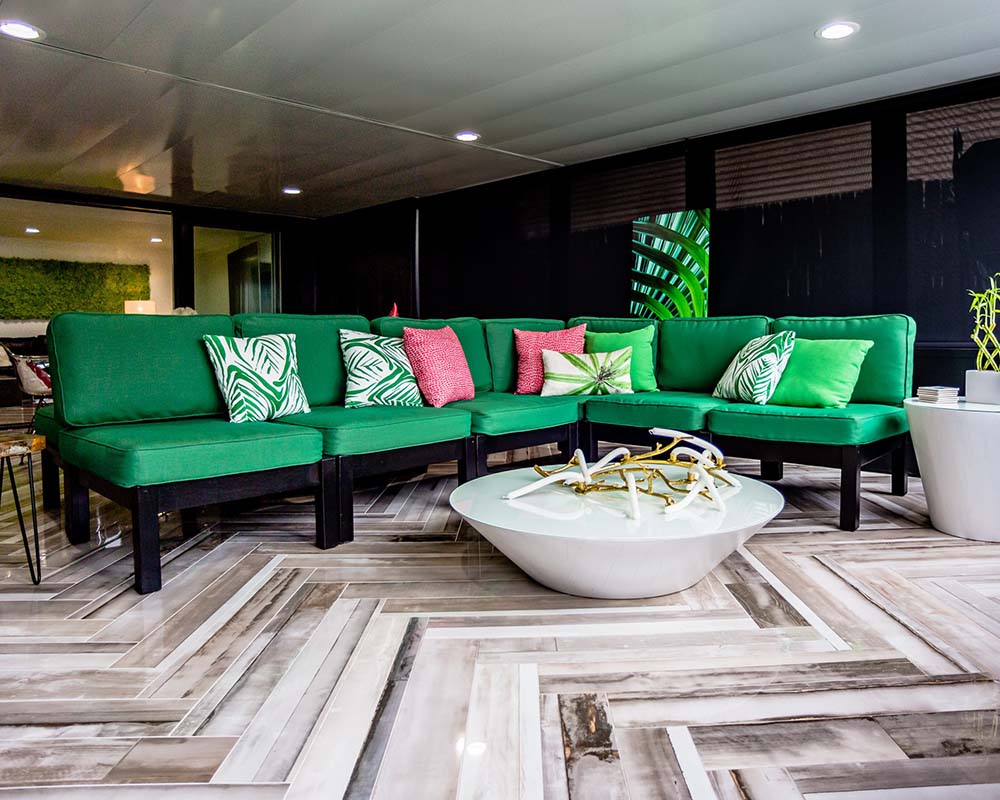 Marvin Multi Slide patio doors make this space open up to the rest of the lower level as they disappear into the wall.
Lake Lounge (former boathouse) – Before & After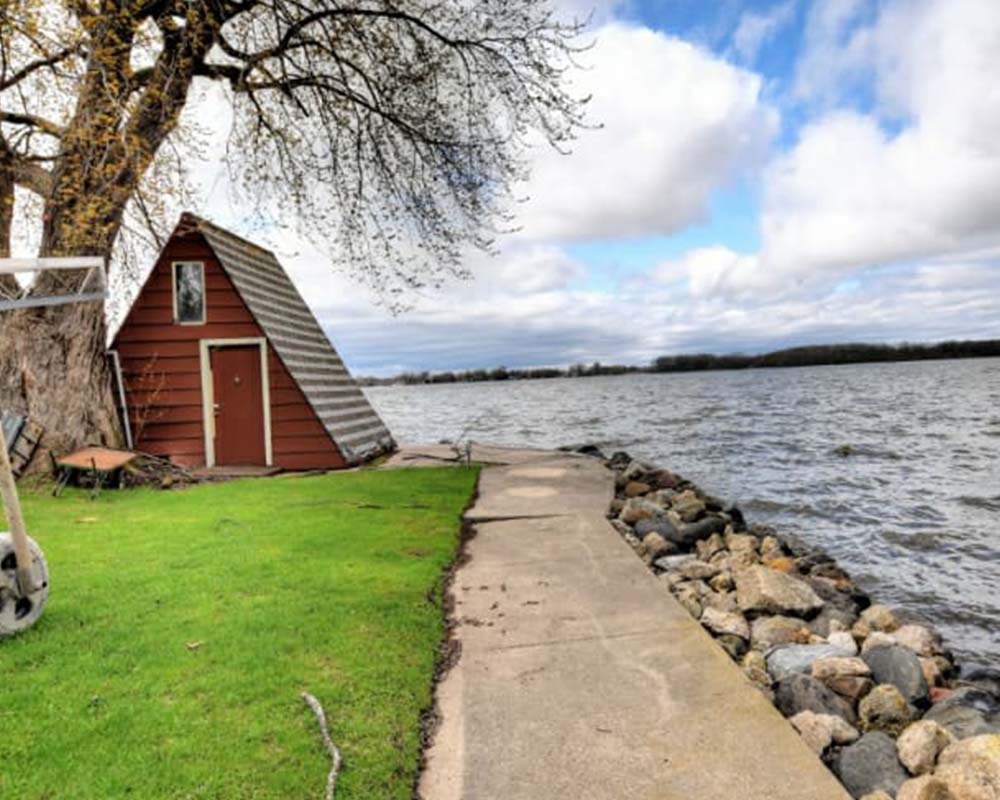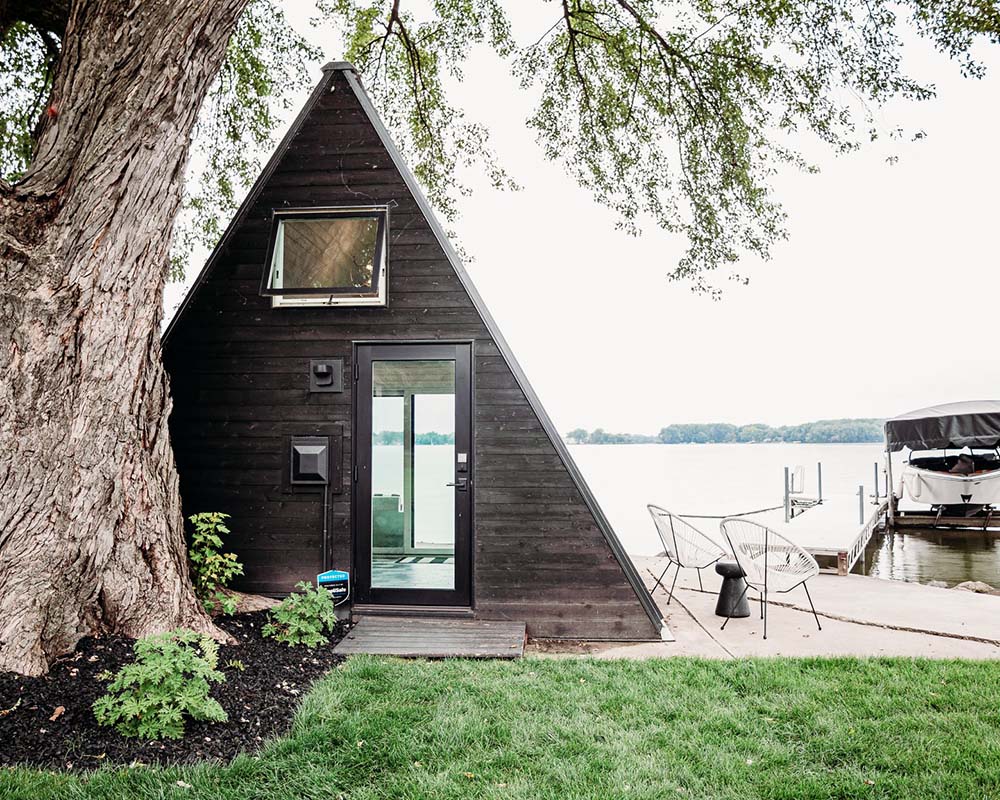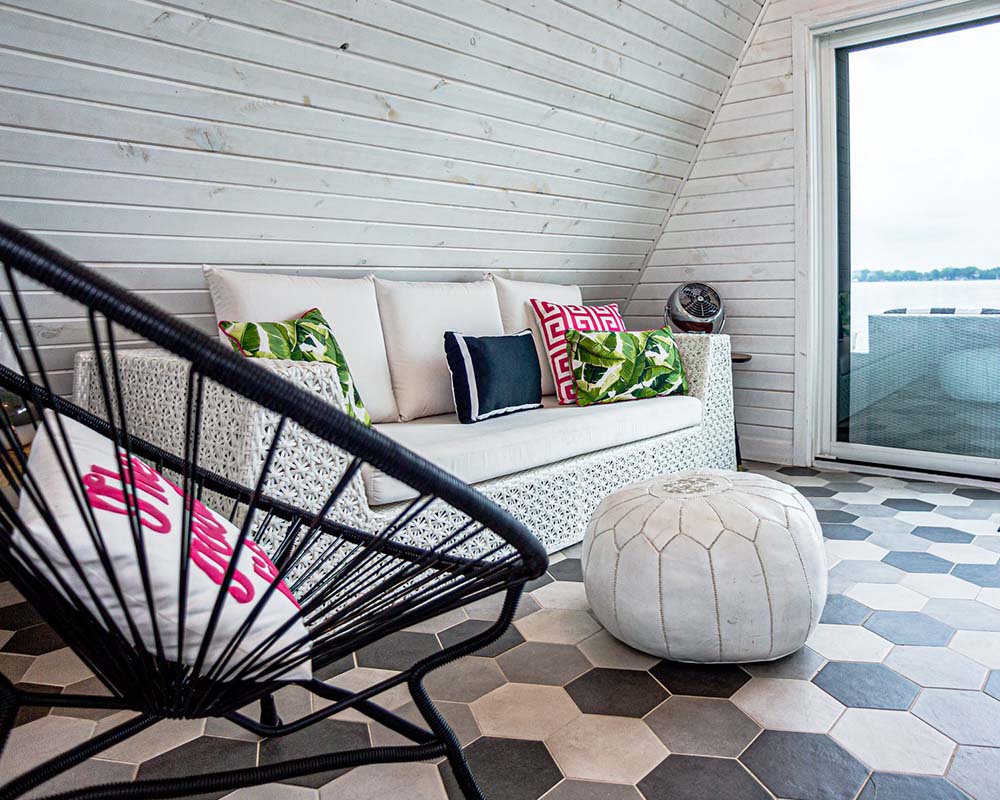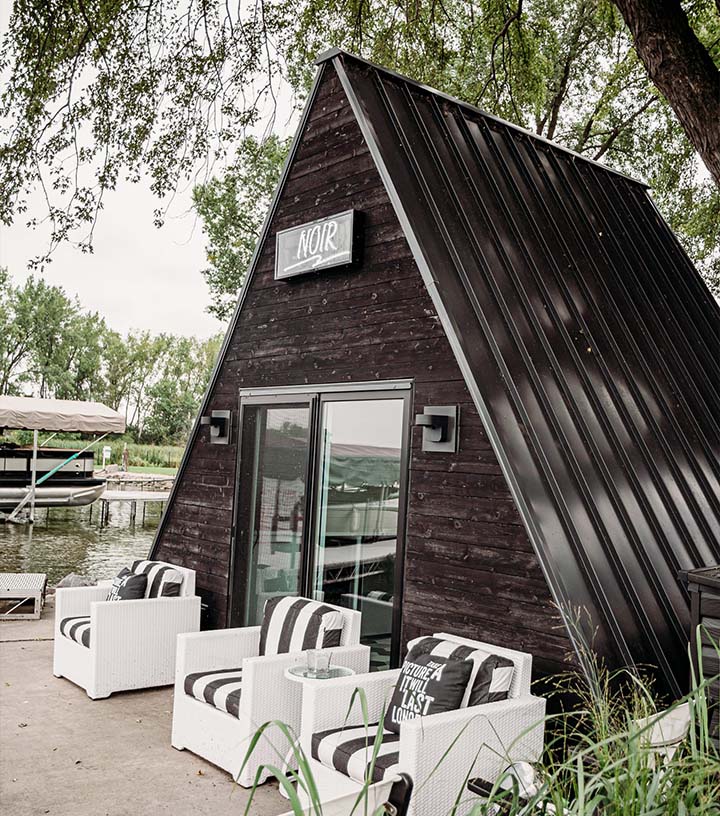 Updated Bedrooms – Deer Bedroom, Cockatoo Bedroom & Bamboo Bedroom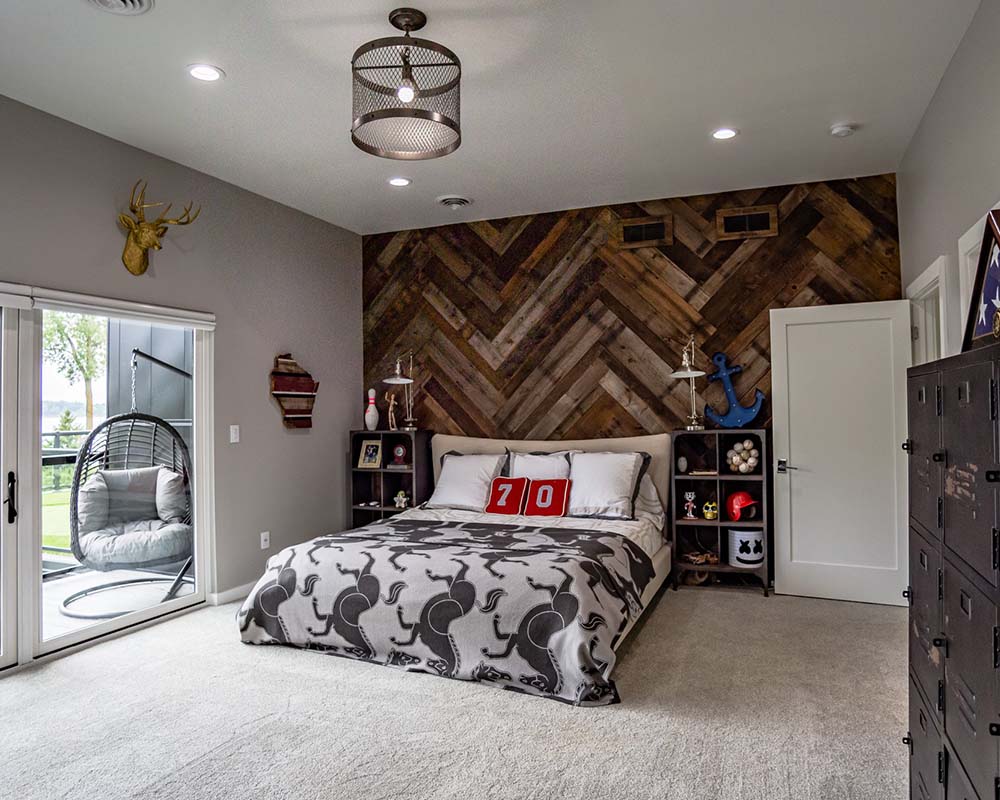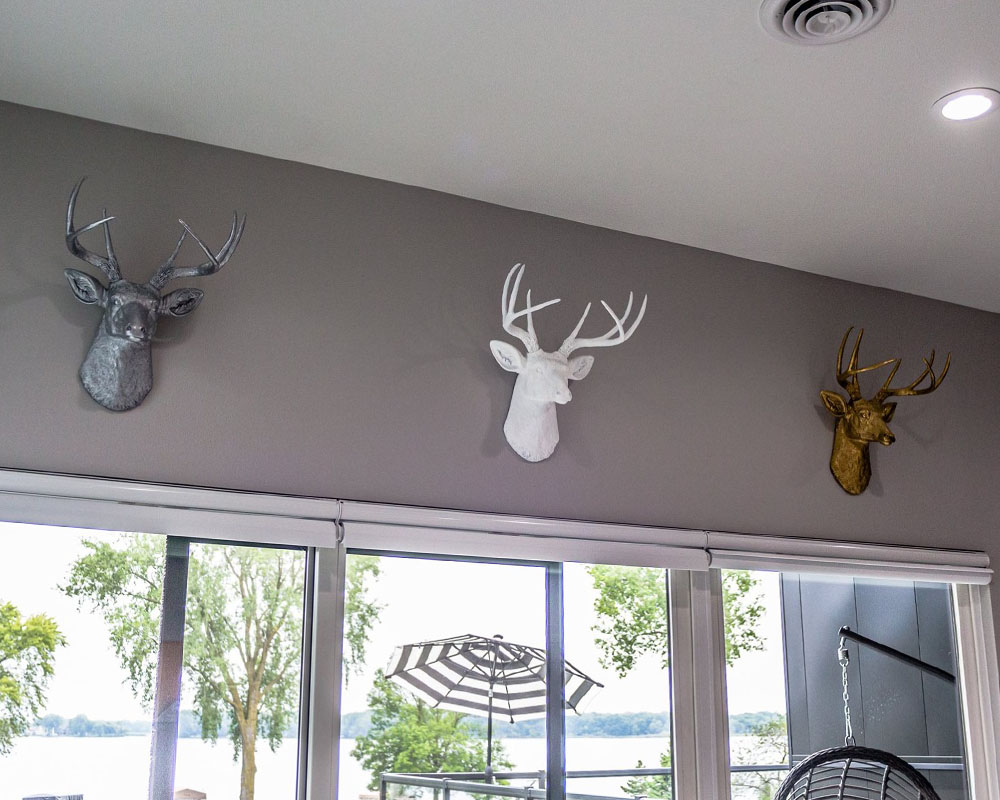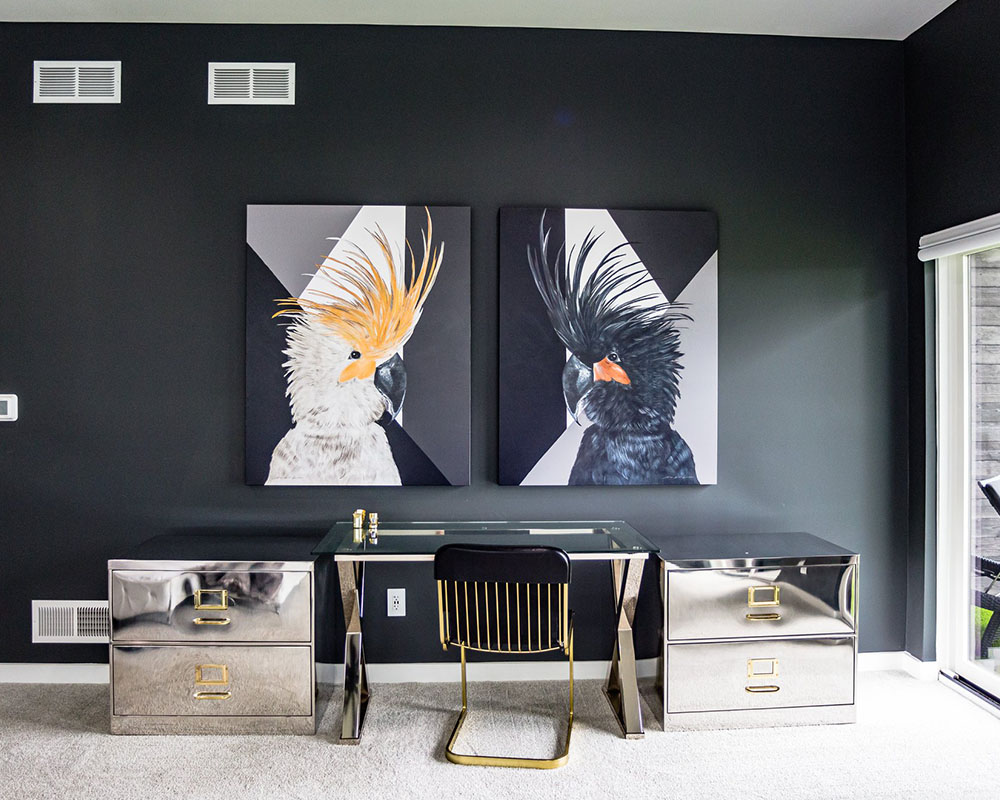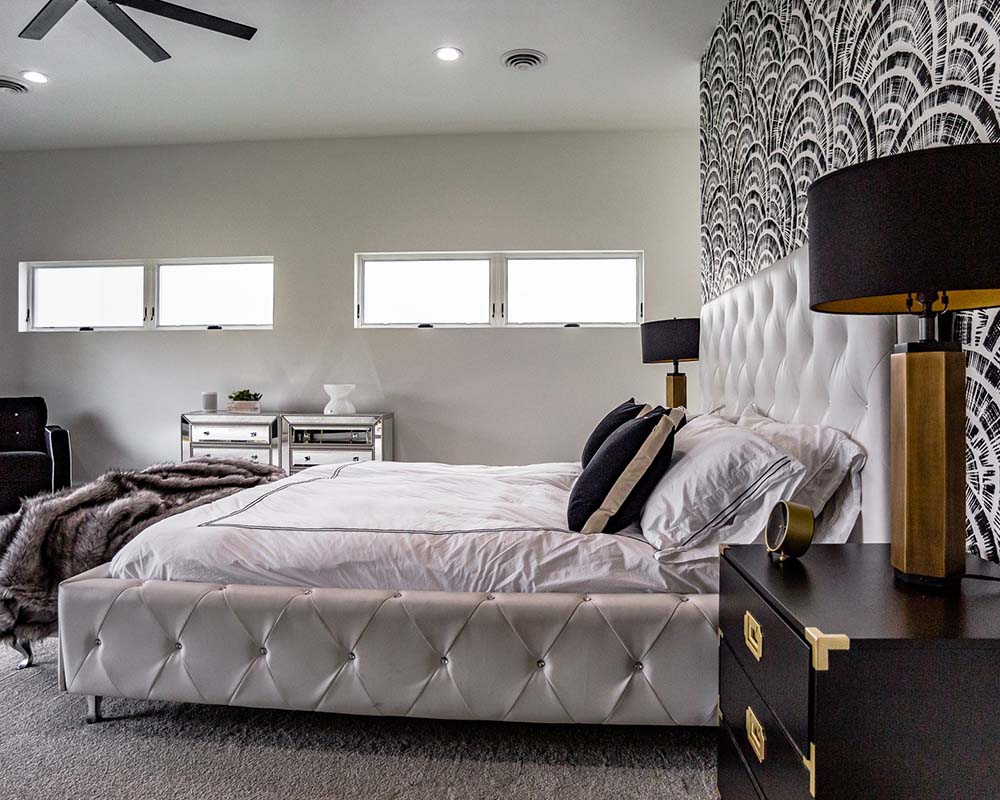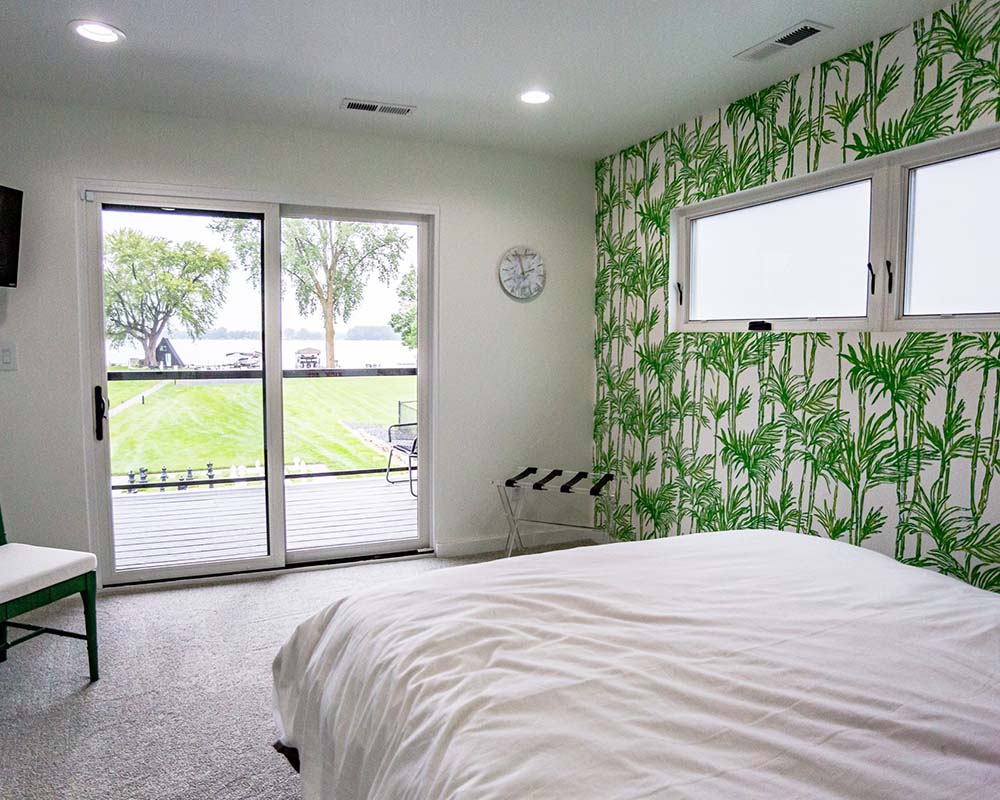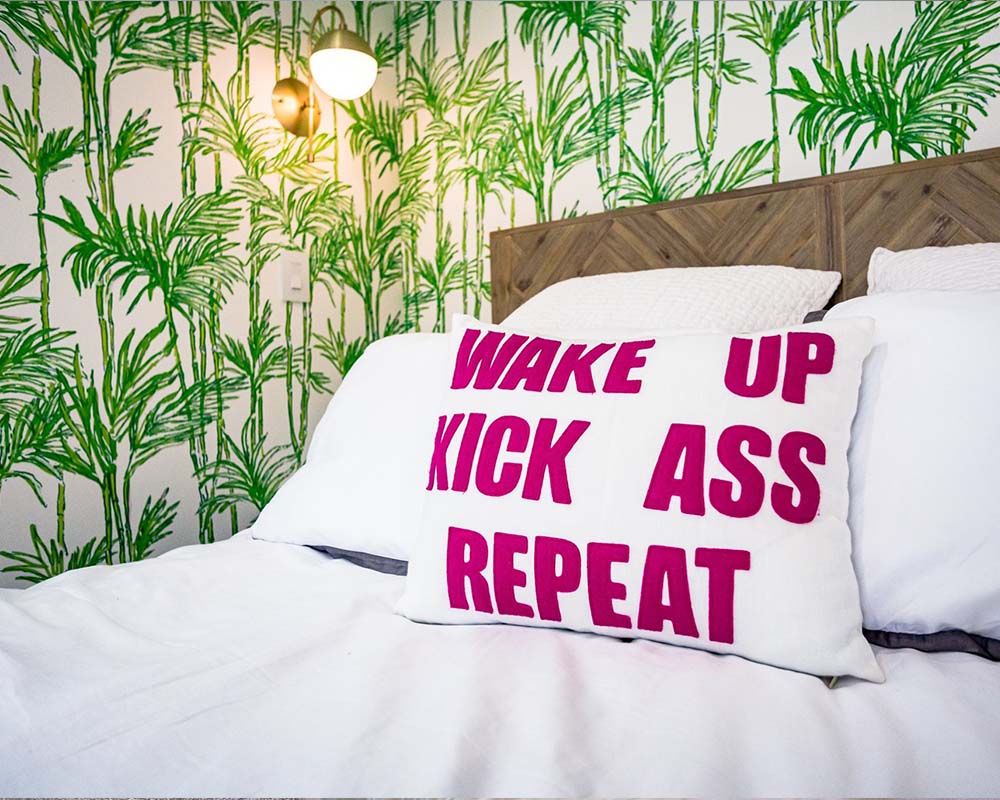 Updated Bathrooms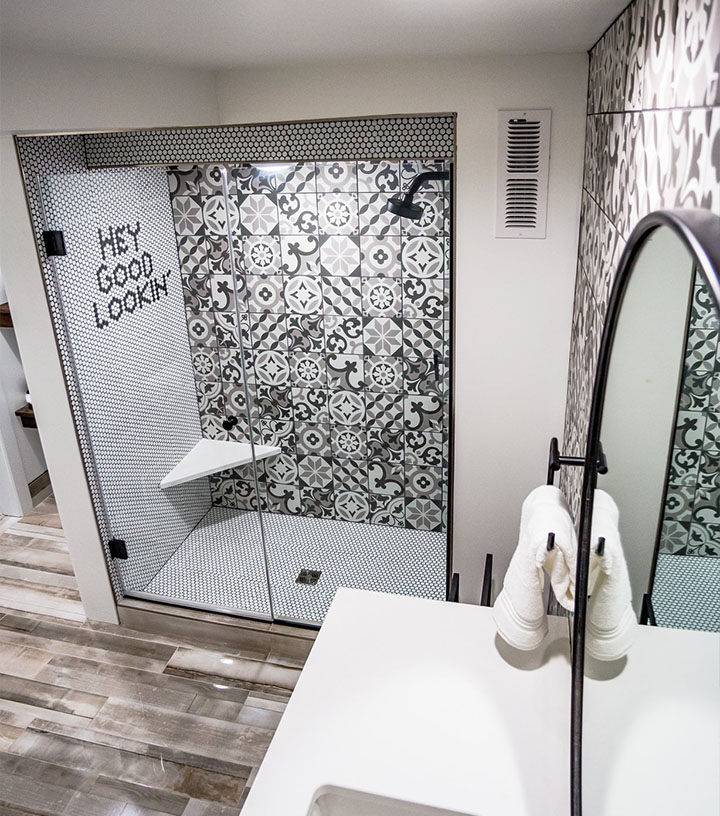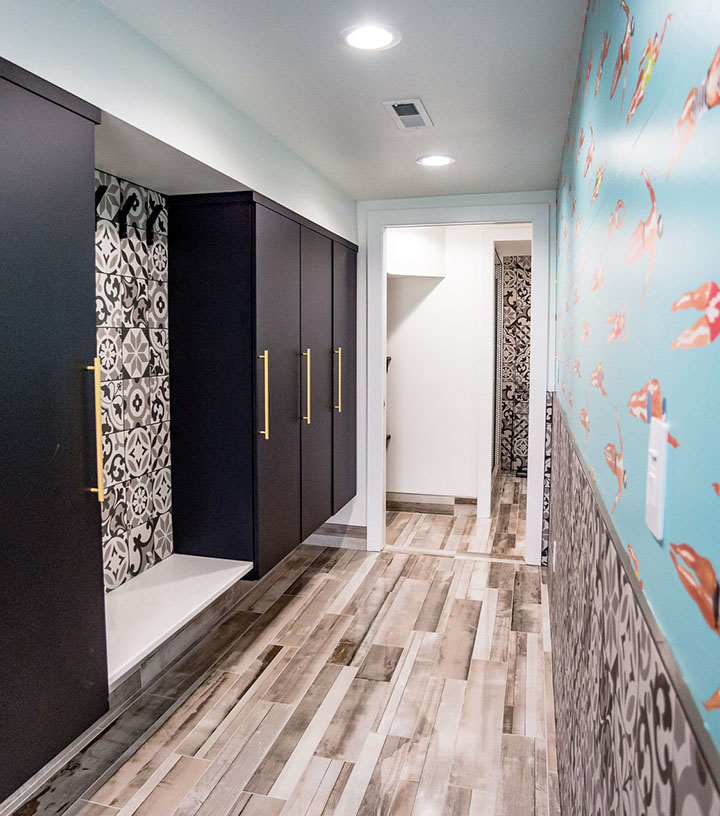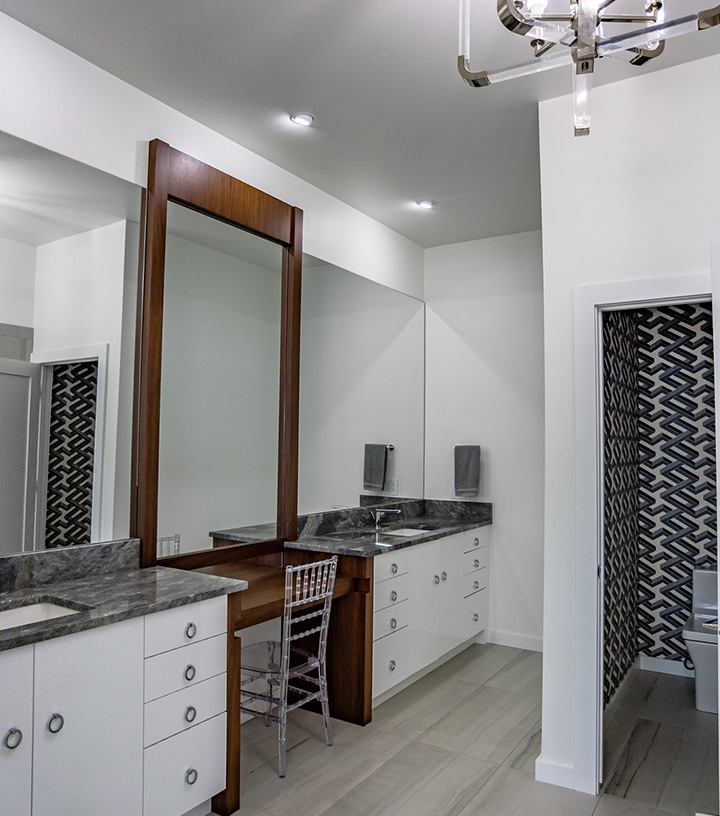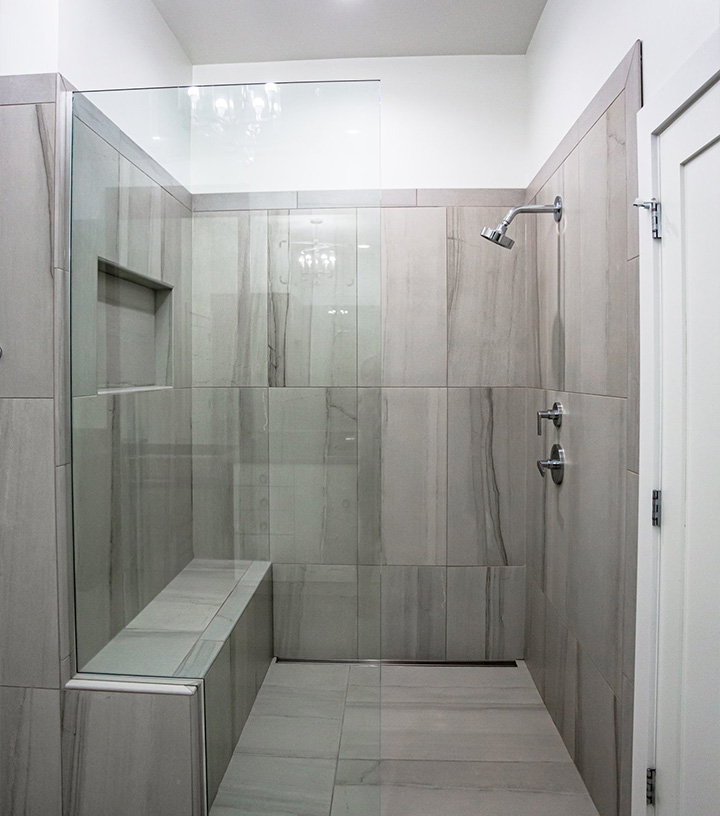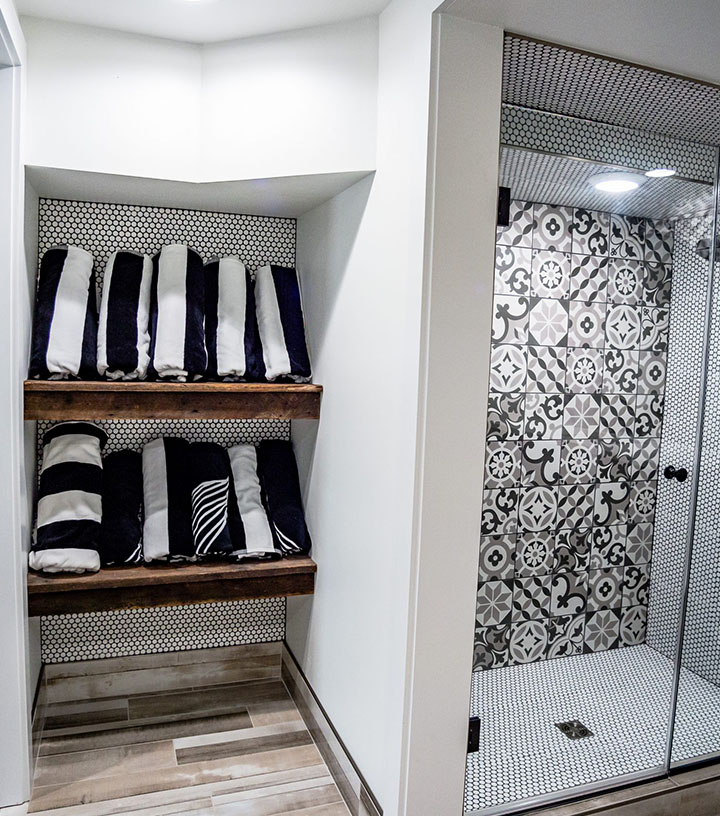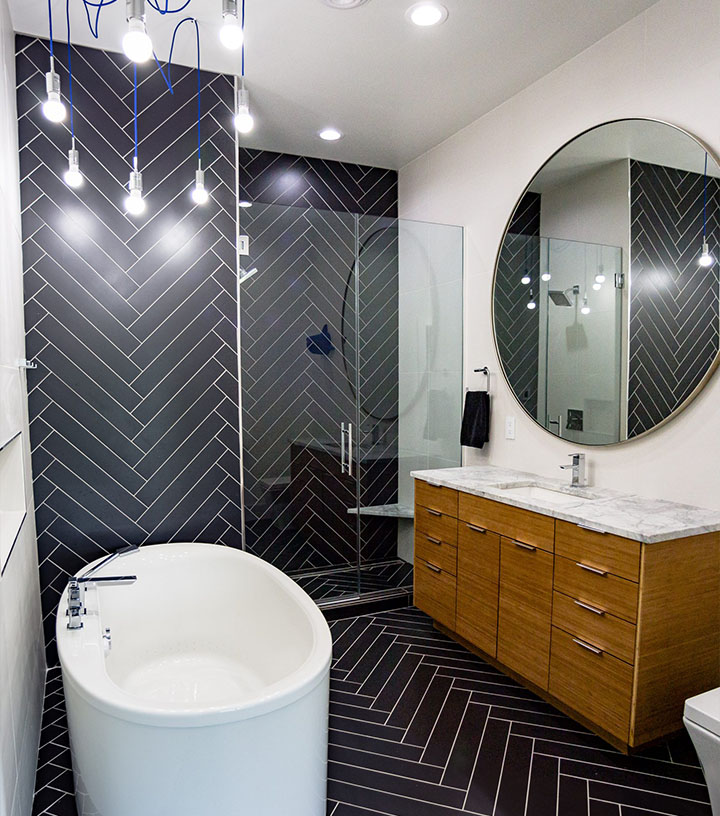 Updated Laundry Room Area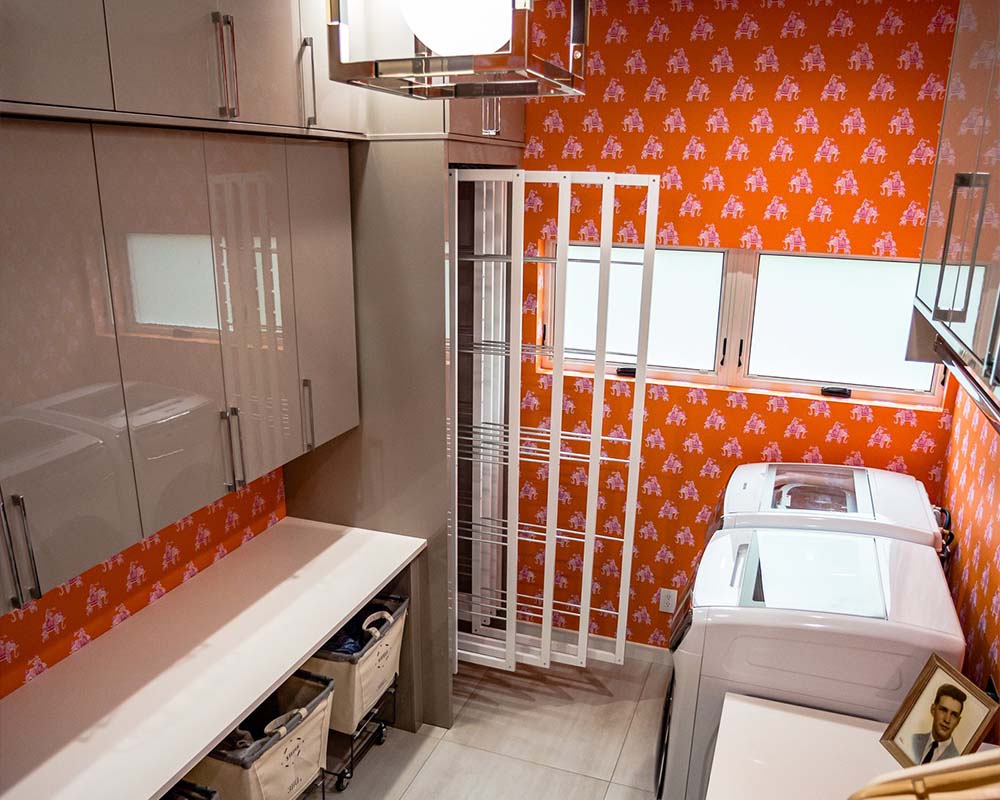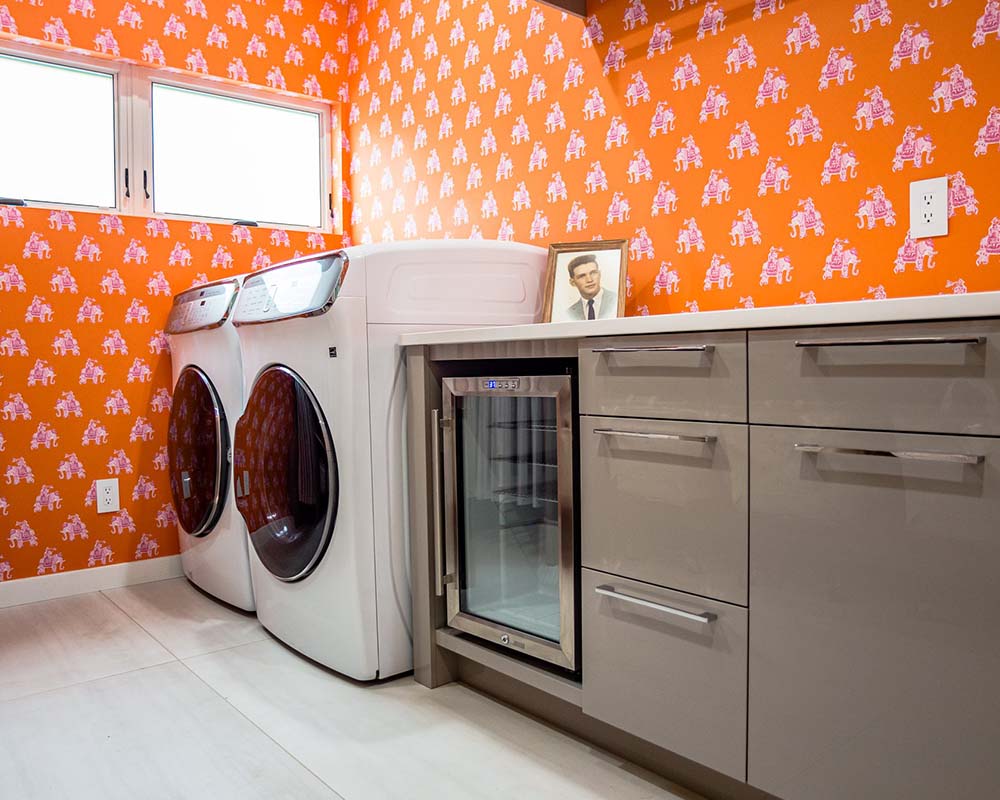 Lily Pulitzer wallpaper, DRYAWAY racks, STEELE laundry bins and high gloss greige colored cabinets.
I created this house with all my favorite things, and doing this post made me fall in love with it all over again.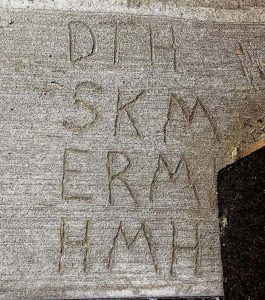 As always, we have to leave a little reminder that we were here.
But all good things must come to an end, or should I say start a new beginning? Time to start that new binder! Let me know what you think in the comments below and please check out our website and facebook page for more before and after pictures of NOIR ON THE NORTHERN SHORE.
xoxo, Stephanie